Home -> Helmet Hair
Helmet Hair
Make It Go Away...Please!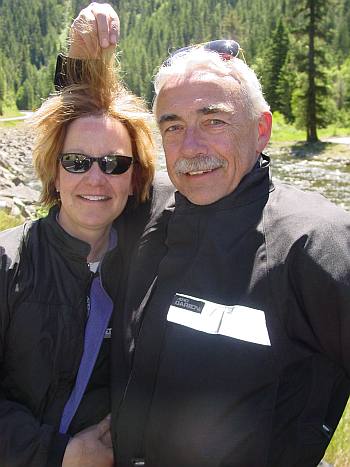 If you ride a motorcycle, you know all about helmet hair. Defined as ...."hair that lies flat to the skull at all points where said skull comes into contact with protective helmet."

I have a lot of hair - thick hair. Hair that hurts after wearing my helmet for an entire day. Hair that may not even become unstuck from my scalp after a good scrubbing in the shower. Yep, I know all about bad motorcycle-related hair.

Is there anything that can keep it from happening?

I have tried to disguise my flat hair for photograph taking - not too successfully. This method requires a willing, able-bodied assistant.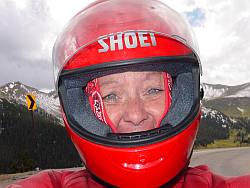 Often, I utilize the "I will never remove the helmet"

approach.All I really want is something that make the flat hair go away after the helmet is removed. Until some creative inventor markets a solution, I will resort to baseball caps.

If you have long hair, you might want to tuck it away in a leather hair glove.

Since 2007 we have asked our visitors the question "How do you deal with Helmet Hair'? And you have answered our question. Since that time we have received nearly 300 responses from visitors to our site. These responses have generally centered around three main themes - hair care products, hairstyles and head gear.
Hair Care Products & Accessories.
Have you heard about Menthogen? Our visitors are awesome. Everyday we receive submissions and comments from you and its a highlight of our day to read them all. Because of you we have learned about Menthogen ( M-Gen ) and your experiances with using M-Gen. If you would like to know more about Menthogen please read this article we've written about Helmet Hair Solutions that we've learned from you. But M-Gen isn't all that you told us about. Check out some of the products our visitors have recommended we have 3 pages of tips sent in by our visitors. Hair Care Products and Accessories:
Page 1
Page 2
Page 3
Hairstyles
Some of our visitors are convinced that there is a certain style you should wear your hair if you want to avoid helmet hair. Who am I to disagree? One of my favourite threads is about Lydie and her amazing flat top haircut and when she went red in 2012! But our visitors have many more suggestions about the best way to wear your hair if you are going to avoid helmet hair. 2 pages of motorcycle hairstyles sent in to us - here and here!
Headgear
Headgear. We're not talking about Helmets here, although you should always wear one, we are talking about things like do-rags, scarves, helmet liners, ball caps. Have a look at the responses from our visitors on what you should wear if you want to avoid helmet hair!
How Do you Deal with "Helmet Hair"?
If you are a rider, or a passenger, then no doubt you've had it - helmet hair. Hopefully, you also have some methods for dealing with it. Share your tips on curing the dreaded helmet hair!

I'll post all submissions that are consistent with the content of "Her-Motorcycle.com" - so just keep it clean, and you'll see your story once I've had a chance to review it.

NOTE: If you have questions about the form, click on the little blue question marks for helpful tips and more information.
Read tips from other readers of Her-Motorcycle
Here you will see submissions of other readers, as well as comments. If you are the first, don't be shy - remember, we women motorcycle riders are the adventurous type, right?