Home -> Motorcycle Riding Gear
Motorcycle Riding Gear Online
Where Can I Find the Best Gear?


Finding motorcycle riding gear online isn't difficult - the hard part is knowing what you really need - versus - something that is really a waste of money.
Motorcycle Helmets
You find a variety of helmets online - probably every type ever made - ranging from vintage helmets to the latest, most technologically advanced. The only problem you might encounter would be making sure that you get the right size. Fortunately, most manufacturers have size charts posted prominently on their websites, allowing you to measure at home. Then you can look for the best deal, and order online.

One word of caution: Make sure the helmet is shipped safely (think about being dropped) and is returnable.

Here is an article about Motorcycle Helmets that we first wrote about in 2007, there is also a link to a page called "Best Motorcycle Helmet" ( because we are always asked this question! ) were you can give a helmet review or simply tell us which helmet you use and why.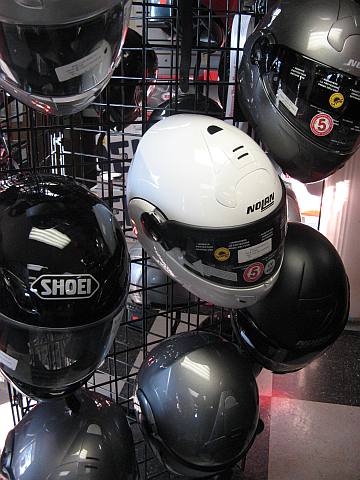 Recommended Helmet Vendors Online
I like to deal with online vendors where I clearly can determine how things are shipped, the cost of shipping, and the ease of returning items. Obviously, price is another issue, but you can usually find really good deals on helmets online.
One of my favorites is MotoSport.com
. You can usually find pretty good prices, get free 2-day shipping AND, you can talk to a real person if you have a question. During the holiday season, you can even "buy now, pay later" - does it get any better than that?

Another vendor that I can safely recommend is Motorcycle Superstore
. You can find any type of helmet here - again know your size. You can almost always get some type of free shipping, and I've returned things without any problem. One thing that is great about the Motorcycle Superstore
is the Closeout page, especially at the end of a riding season. You can get some fantastic sale prices.
Motorcycle Leathers
You can also find many sites that sell leather jackets and gloves and we've written about both leather jackets and gloves - but, the company that I recommend over and over and over is Fox Creek Leather.Fox Creek Leather is a small family run company that takes pride in offering high quality American-made motorcycle leathers at reasonable prices. All of there jackets, vests, and chaps are covered by a lifetime guarantee. The also offer a wide selection of leather accessories, motorcycle luggage, and biker gear. From belts to wallets and purses to hair bows, They have something for everyone. Free shipping is offered with orders over $50. Click Here
We have also heard of Theresa Lovelace Designs and have featured her on her-motorcycle.com for 2012. Although we don't have a jacket made by her, we have heard some good feedback about the quality of her work. Please click on the link below to learn more about Theresa Lovelace Designs.
Theresa wearing The Roxanne a handcrafted leather motorcycle jacket.
Motorcycle Pants
Another essential item of motorcycle gear, often found online with relative ease, are motorcycle pants. Here is the article we've written about motorcycle pants. In my opinion, your motorcycling experience can be greatly enhanced if you have pants that allow you some degree of comfort along with wind and water protection, for some long hours on the motorcycle.


Motorcycle Boots
What is the perfect motorcycle boot for women? We have articles on the collection from LL Bean and the Harley Davidson collection.
Milwaukee Ladies Classic Harness
and Double H Boots are both sold by Foxcreek Leather. We haven't tried either style but hopefully one of our visitors will come back here and give us her review on these boots.
Motorcycle Jackets
We have already drawn your attention to Foxcreek Leather and Theresa Lovelace Designs just a little further up on this page. We have also written articles on Heated Motorcycle Clothes ( including grips ) and a Black Leather Jacket from Foxcreek Leather and the perfect motorcycle jacket.
Motorcycle Eye Safety
You really do need to protect your eyes and here is an article written for us that discussessome ways to do just that. A good pair of motorcycle goggles or glasses will help protect your eyes from road debris and dust
Motorcycle Riding Gloves
Vented gloves, lightweight leather gloves, heated grips what are the best motorcycle gloves?
What our visitors recommend.
Since 2007 visitors to www.her-motorcycle.com have been sharing with me and our readers their views on riding gear for women motorcycle riders.

Our visitors have sent us many submissions about this subject. And many conversations have taken place between our readers over the subjects of where to find good motorcycle riding gear for women.

Please enjoy the articles sent in by our visitors and if you would like to join the conversation please share your submissions with us.


If you would like to join the conversation please share your submissions with us.