Home -> Motorcycle
Our Motorcycle Products Shopping Guide
Her-Motorcycle.com is affiliated with the following merchants who provide various products for Women riders.
Motorcycle Superstore
Motorcycle Superstore is an American company based out of Oregon. Founded in 1998 in Grants Pass Oregon in the attic of founder Don Becklin, Motorcycle Superstore also has a retail outlet in Louisville Kentucky. We like their enormous variety of motorcycle products, their closeout specials and their committment to fast delivery of 1-3 days nationwide and free shipping ( visit their site for more info on shipping ).
Motosport
Motosport is another American company based in Oregon, Tualatin to be exact. We also like their enormous variety of products, their committment to fast delivery and free shipping ( check out their website for details on shipping ). There should be something here for you especially if you like to ride dirt bikes and atv's.
Foxcreek Leather
Foxcreek Leather describe themselves as a small family owned company from the Blue Ridge Mountains of southwest Virginia. They are actually based out of Independance, Virginnia. With few exceptions all of their products are shipped from their base in Independance, Virginnia and all of their products are American made in 14 States that span coast-to-coast. We like it that Foxcreek Leather is responsible for jobs in 14 US states and are happy to refer you to the variety of leather products they make for women motorcycle riders including chaps, jackets, gloves and other fine American made leather goods.
Bizrate ( Ads by Shopzilla )
We have featured Bizrate in two formats on her-motorcycle.com. 1) direct text links to products we have refered to you and 2) through image based displays on several of our pages which have the tag "ads by Shopzilla". Bizrate ( which is part of the Shopzilla family with connections to Symphony Technology Group of Palo Alto California ) is a shopping comparison search engine. We love Bizrate. Our favourite thing about Bizrate is how easy it is to find products we are looking for and to compare the price over several different online merchants. We can search for "Arai Motorcycle Helmets" and get lots of results from different online retailers ( some of whom are on this page, and many who are not but we recognize like Amazon.com ) and we can then compare prices on one page from multiple retailers! We love to find bargains and Bizrate is one of the first places we start at when we are looking for stuff for our motorcycle.
Menthogen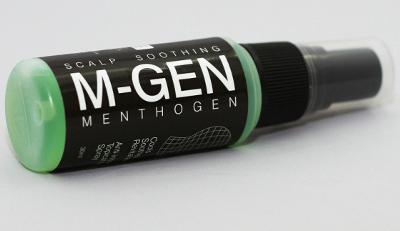 Menthogen ( M-Gen ) came to our attention from our visitors starting on our Helmet Hair page in October 2010 and we subsequently turned that feedback into an article about M-Gen being a helmet hair solution. M-Gen is manufactured in the UK by a company called Ahead Solutions which manufacturers and represents a variety of products that aid scalp itch and irritations. Ahead Solutions has also moved into other products that can be of assistance to motorcycle riders including High Visibility products, Bike LED light solutions, ID tags, Airhead Helmet Liners as well as a line of M-Gen Shampoo, Helmet Sanitizers and their new product Airhead Cool Spray.

Her Motorcycle
Our Newsletter