Home -> Helmet Hair --> Helmet Hair Solutions
Helmet Hair Solutions
Helmet Hair Solutions: We have a solution and its called Menthogen!

Menthogen from Ahead Solutions (UK) LTD first came to our attention in Oct 2010 when a comment was left by one of our visitors in a thread titled "Itchy Head From Helmet". From that point on we have noticed several references to Menthogen as our visitors have come back and reported their results from using this product. Continuing in the same thread from "Itchy Head From Helmet" we have watched progessively as our visitors have reported their possitive experiances with Menthogen. After we first heard about Menthogen another comment was left in a new thread called "How To Prevent Itchy Helmet Head" by a visitor named Bizwax. Lisa from Manchester UK wrote a post and submitted it on our Helmet Hair page called "Use Menthogen to feel and look great!". Which generated a number of positive responses by more of our visitors with regards to their own personal experiances using Menthogen. All of these comments really got our attention as we started to see our vistors report in from all over the world. As you browse through the links take a notice of some of our visitors who have indicated where they are from - US, Uk and Australia! But we weren't the only ones to notice - your feedback was also noticed by Ahead Solutions the manufacturers of Menthogen who contacted us and offered her-motorcycle.com a customised webpage to make ordering Menthogen online easier for our visitors.
Click Here to Order Menthogen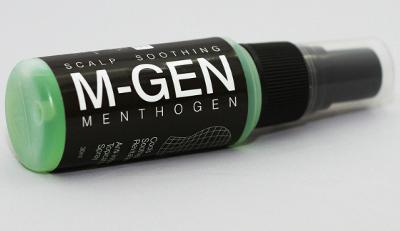 To order Menthogen please click the picture or visit our webpage for Menthogen and other helmet hair solutions from Ahead Solutions (UK) Ltd. Her-Motorcycle.com would like to thank Lee Cunningham at Ahead Solutions (UK) Ltd. for setting up a webpage just for our visitors to order Menthogen. Our visitors are primarily from the United States and we really appreciate Lee for supplying us with a webpage with pricing in US dollars. I know that our visitors appreciate that very much. Please check out the links above to read what our visitors have said about Menthogen as part of their search for helmet hair solutions. If you decide to try out Menthogen We would love to hear more of your feedback about Menthogen and other products from Ahead Solutions, especially Airhead Cool Spray!
We would love to know what you think!
Your experiences go along way with our visitors. If you are using Menthogen and Airhead Cool Spray we would appreciate your feed back. Please let us know what you think!
What Other Visitors Have Said
Click below to see contributions from other visitors to this page...

Use Menthogen to feel and look great!

Menthogen is a post-ride tonic spray which 'cools, soothes and revitalizes the scalp and hair'. Part hair, couple of sprays and rub in. Within minutes …
How to Prevent Itchy Helmet Head

I have 3 helmets and cannot get rid of itchy helmet head. Help me, what can I do?
Itchy Head from Helmet

This may be a strange question, but does anyone else have a problem with their head itching, when wearing their helmet? Mine itches so badly that I can't …