Home -> History
Women Motorcycle Riders throughout History
I wanted to know about women motorcycle riders throughout history - like Ameila Earhart, only on wheels. So, I googled "women motorcyclists in history." Slim pickings for sure, but I did learn about Women in the Wind, and I began to read about the group and it's founder, Becky Brown. I remember hearing about the PBS documentary, "She Lives to Ride," which I have not seen.

Now, I become a woman on a mission. After all it's a cold, rainy March day, not a good day for doing much other than reading about motorcycling. I'm determined to find the film, so back to Google I go.

I find the press release and read it. Now, I meet another women motorcyclist, Dot Robinson, who founded the Motor Maids. I need to do another google search, but I still need to find the film. note to self: find film, then learn more about Dot

Next, I read a New York Times article from 1994, in which the film receives a glowing review. But, no film. Now, I'm beyond intrigued. I must find this film.

So, I'm thinking: It was a PBS documentary; perhaps a visit to PBS might prove fruitful. Back to google, onto PBS, yet another search, but nothing. There is no listing for the film on the PBS site.

Instead, I'm only left with signing up for the PBS newsletter, and the AMC newsletter, in the hope that I someday will receive an alert that the film is being shown. Am I the only person who is curious about Women Motorcycle Riders?
Dot Robinson
Member of the Motorcycle Hall of Fame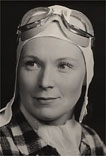 A bit unhappy that my gratification must be delayed, unable to find the film, I decide instead to read more about Dot Robinson. Sadly, I learn that she died in 1999, at the age of 87. I find the Motorcycle Museum Hall of Fame site and read more about Dot. I find myself blinking back tears, yet I'm smiling at the picture of her on her pink Harley. What a remarkable woman, and what love she had for motorcycling, and for women motorcyclists. Here's to more women riding a "million and a half miles" or more.

Curious about women motorcycle riders who may someday be our historical leaders in the field of motorcycling? Read some profiles of contemporary women who ride motorcycles.