Home -> Maintenance
Motorcycle Maintenance Tips
Motorcycle Maintenance Tips - like all things mechanical, in order to keep your motorcycle working, you need to do certain things to maintain it. More than just making sure that you've got a full tank of gas, you need to go through a checklist before every ride. Just a little motorcycle maintenance will result in a smoother ride.

Every Spring, before the riding season really kicks in, we take our motorcycles back to the dealer and have the oil changed, and have any regularly scheduled maintenance done. However, we are lucky in that we have a dealership nearby, with a service manager that we know by name, who knows us. We can trust him to make sure that our bikes get what they need. AND we know that he won't scam us.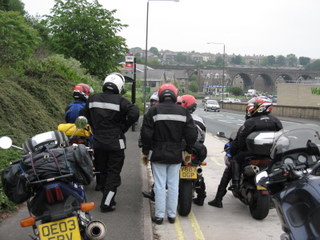 So, my first tip: Find a service person in your area who you can rely on. Shop around. Actually interview the service person just as you would a babysitter, or a petsitter. If you get your questions answered, and feel comfortable communicating with him or her, then you've won half the battle. Make an appointment and have the mechanic go over your motorcycle with you - telling you what you need to watch. How to check the oil, recommended tire pressures, how to check the chain - the basics. Then with the help of the mechanic, formulate the checklist you'll use before each ride.

Keep in mind that your safety is hinged on the dependability of your motorcycle. Breakdowns, although they do happen, really can take the fun out of motorcycling. Motorcycle maintenance is the key to a dependable motorcycle.

One of the most common reasons for mechanical difficulties is a motorcycle battery. Make sure you know about basic care of your battery.

Gasoline and Oil - The Necessities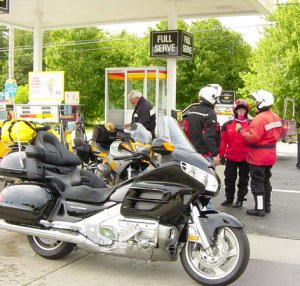 The basics - everyone knows about gas and oil. Why do I need to include information about gas and oil? Not so simple with a motorcycle. Just a little ordinary motorcycle maintenance, and you're good to go.

First, make sure to consult your manual for the recommended octane gas for your particular bike. We try to put premium gasoline in our BMW's, but there are times when gas stations are rare, and only regular octane is available.

Also figure out how many miles you can expect to get from a tank of gasoline. If your bike, like mine, doesn't have a gas gauge, then you need to watch the mileage and try to find a gas station as you near the bottom. Running out of gas isn't fun (Trust Me). There are also some measures you can take to improve your fuel efficiency, and to be prepared for the times when you run do out of fuel.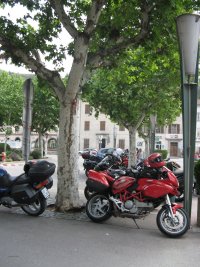 With respect to oil, you need to learn how to check the oil level. This is best done when the bike is cold, and on a flat level. If you have a center stand, put the motorcycle up on the center stand, and then let it sit for a few minutes.
Then you should be clearly able to see the oil level. As is the case with gasoline, learn the recommended oil for your motorcycle, and keep some handy. If your bike tends to burn oil, always keep some extra oil with you, especially on long trips.
You may also need to pay more attention to the oil level in extreme temperatures, both hot and cold. There are various types of oil - synthetic, high performance, different weights. My suggestion is that you consult a mechanic, and your manual to determine the best one for your bike and your type of riding.