Home -> Motorcycle Accessories
Motorcycle Accessories
Motorcycle Accessories - More than just bling for your bike!

Here is the corner of our website where we talk about motorcycle accessories. This is a collection of articles we've written over the years ( we've been online since 2007! ) about stuff we've used or heard about since we've been online. This is also the place to share. If there are accessories that you like to use when riding, we'd love to hear from you. If it wasn't for our visitors sharing with us we wouldn't have heard about some great motorcycle accessories such as the Wrap-Id Toll pass holder or some of the products you use on your hair to beat the dreaded Helmet Hair! Please enjoy all of the articles below and if you'd like to share accessory ideas with our visitors please share them with us.
Motorcycle Gadgets
We wrote about motorcycle gadgets a few years ago and detailed some essentials you might want to consider bringing with you when you ride. This isn't about Bling for your bike, just some practical advice.
Motorcycle Luggage
Tank bags, Saddlebags and some suggestions we like from Foxcreek Leather! Motorcycle backpacks: Some riders don't like to use these while others can't live without them.
Motorcycle Seats
Who doesn't need a comfy motorcycle seat? Here is an article we wrote a few years ago about comfy seats which includes a couple links to aftermarket products you might be interested in like Sheepskin seat covers.
Motorcycle Camping Gear
Have you ever thought of going camping with your motorcycle? Well we did and we wrote an article about it here with some tips and links to motorcycle friendly accomodation, a great North American directory for campsites and an article we wrote about Adventure Traveling.
Motorcycle Trailers
Here is a series of articles we wrote about enclosed, open, fold up and 3 rail motorcycle trailers.
Hair Accessories our visitors use.
We have asked our visitors how they deal with the dreaded condition known as helmet hair on our Helmet Hair page! Well you have certainly responded and we now have 1, 2, and now 3 pages full of accessories that you use for your hair when motorcycle riding. You have also told us about what you wear under your helmet such as Do-rags, Buffs and more. And you have also told us about M-Gen, which we use, and have written about here.
Skincare advice!
Here is an article we wrote about skincare way back when! Do they write about these kind of subjects on men's motorcycle sites? Hhmmm! If you have skincare advice please share below.
Motorcycle Security
Security is a fact of life in our crazy world. Here is an article we wrote several years ago about Motorcycle Security that discusses protection for you and your motorcycle. Yes, you need to protect "you" as well as your bike!
Wrap-Id Pass Toll Pass Holder
In 2011 we learned about the Wrap-Id Toll Pass holder and featured this on our site for all of 2012. This is a really cool idea and if you live and ride in areas that have a lot of toll highways and roads please check this out. Please click the picture of Geri and her daughter Ashley for more information on the Wrap-Id Toll Pass Holder. There are lots of pictures available as well as a couple of videos of how it all works.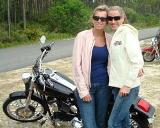 Gerri with her daughter Ashley
AngelHeart Designs
We also heard about the Road Angel® from T.J.Combine in 2012. Please click the link for AngelHeart Designs and read the story about how this business came about.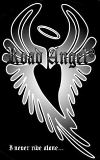 AngelHeart Designs.
Krome Cosmetics
Late in 2011 around Christmas time we heard from Kat Thomas. Kat rides a 2001 Fatboy and has dreamed since childhood about being a Cosmetics Chemist. Because of her love of riding and making cosmetics she decided to make a line of cosmetics geared towards women riders. We featured Krome Cosmetics on our site throughout 2012. Please visit the link below to learn more about Krome Cosmetics.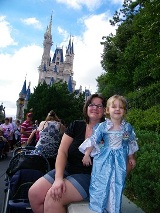 Kat Thomas from Daytona Beach Florida with her all natural cosmetics.
What accessories do you take with you when you ride?
Please share below!


What Other Visitors Have Said
Click below to see contributions from other visitors to this page...