Home -> Buying A New Motorcycle
Buying a New Motorcycle
Other than getting married, graduating from college and perhaps having a baby, is there anything potentially more exciting than buying a new motorcycle?

I think not.

I still remember lusting after my first BMW - it was red, an 850 R, no ABS, no hard bags - just bare bones. Oh, how I wanted it.

I had been riding the used Honda that was my first bike, and I now felt that I had enough miles under my belt to justify a brand new bike. (On that point, I was a bit wrong)

In reality, the Honda was a bit mechanically challenged, and fighting to keep enough gas running through it was tiring. I would have to keep the choke on forever, and constantly be revving the engine just to keep it running. So, my logic was: Buying a NEW motorcycle - A new, mechanically-perfect motorcycle would be MUCH safer. (On that point, I was probably right)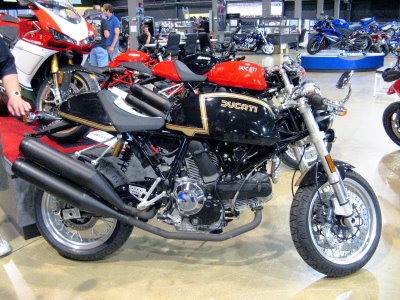 So, we scoured the motorcycle magazines, wandered through dealerships, attended the Chicago Motorcycle Show, and decided that a BMW would be the best choice for my first new motorcycle.

We are fortunate to have a wonderful dealership right nearby, and we knew the salesmen, and liked them. We were also fortunate to know many BMW owners, all of whom loved their bikes.

So, the year after I learned how to ride, in the Spring - we went to the dealer and put down a down payment. After, I test rode the motorcycle.

If you need to finance your new motorcycle, check out your options, and remember interest rates can really add up.
Tips from the Novice Files:
What you should know and I really didn't.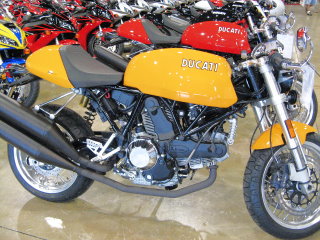 I know that I use that term quite frequently "From the Novice Files" - but I really do wish that I had the benefit of some wisdom when I had some of my "firsts" in the world of motorcycling. Too bad that we really do learn from our mistakes.

Buying a new motorcycle was not a mistake - My purchasing the R850 R was not a mistake, but the process that I went through before doing so - well, it was frustrating.

When you decide to buy a new motorcycle, make sure that you find a dealership where you can do a test ride. This wasn't all that easy for me.

With appropriate emphasis added: Before buying a New motorcycle, make sure you can test ride the bike.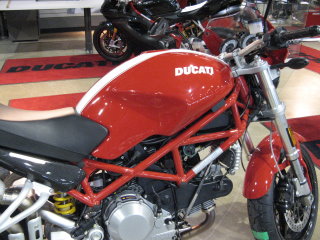 Initially, we visited a dealer in one of the suburbs - a dealer that was highly recommended, and known to have a large stock of new and used BMW's. The service department was also highly rated and recommended. So there we went.

The exact model that I wanted was right there on the showroom floor - gleaming, red, shiny - and 00000 miles on the odometer. We looked it over, and waited and waited - and waited, for someone to come over and help us. After about 30 minutes and no contact, Bob went to find someone. He came back with the "owner" of the dealership - a middle-aged man with glasses and a big frown. Bob explained that the R850 R would be my first new motorcycle, and that I wanted to test ride it.

The dealer, rubbed his chin with his hand, frowned more severely, sighed and then said: "We don't let anyone test ride our motorcycles."

Knowing this to be untrue, I said: "Are you sure? Because I just spoke to a friend who just bought a bike from you, and he certainly did test ride it prior to buying it."

To which, he replied, slowly and deliberately: "You must be mistaken. No test rides from this dealer."

With that, he turned and walked away.


---
You guessed it: There was no buying a new motorcycle from this dealer, and you can believe that I have gone out of my way to make sure that no one else does either.

His policy was clear: No woman was going to ride a motorcycle. Especially a woman who was buying her FIRST new motorcycle.

My tips for buying a New Motorcycle

* Make sure that you are comfortable on the motorcycle.

* Check the seat height - if adjustable, learn how to adjust it.

* Have the salesperson point out all the features and equipment.

* Find out what options are available.

* Ride the motorcycle more than just around a parking lot - do some turns, park it, do some hard braking.

* Learn how to check the oil, and other fluid levels.

* Negotiate the best price possible.

* You probably have more negotiating ability if you buy in the winter, and pay cash.

* Do your homework in advance - be powerful in your knowledge.

* Do let the salesman talk you into something you don't want.

* AND, do not shop where you are not respected as a woman rider.


Chances are, you're going to be spending some hard earned money, a bit of it. Make sure that you are getting what you want, and what you are comfortable with. If money is tight, get the bike bare and add options like luggage and a windscreen as you can. But, do not be talked into something less than, or different than you want - especially, if you hear the line: "Don't you think that this would be better for you?"

Also research the particular model you're interested in, and learn about it's reliability. It's also a good idea to know what the motorcycle lemon laws are in your state.