Home -> Your Bikes
Your Bikes
The Motorcycles that Women Love to Ride!
Me and My BMW!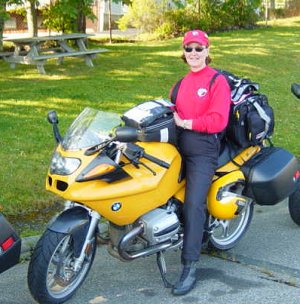 Your Bikes: Come and share information and pictures of the bikes you love to ride! Women and Motorcycles - sometimes still an eye-raising visual, but it is a picture that surely is becoming more prevalent.

I love my BMW sport bike, but I admit that I am shopping for another motorcycle that is less extreme in terms of riding position. Yep, I'd like some comfort in the next motorcycle, and there are SO many bikes that I'd love to own.

If you are a woman with a motorcycle, please consider sharing your bike with the rest of us. Let us know the make and model, and some information about what makes you love it so.. It's your motorcycle, tell us why you picked it. If you are like me, you've probably encountered a man -yes, a guy - who thought that he knew just what bike would be the right motorcycle for you - a woman. I'd rather hear from you.........(don't be shy - it's very un-biker-like)

Then, bookmark this page, or ask for a notification of other responses - and come back and read about the other women and the motorcycle that they love to ride!
Share Your Bike with the Readers of Her-Motorcycle.com
If you are a woman motorcyclist, and you are riding what you believe is one of the "best bikes" for women, send me a note and let us all know!

I'll post all submissions that are consistent with the content of "Her-Motorcycle.com" - so just keep it clean, and you'll see your story once I've had a chance to review it.

NOTE: If you have questions about the form, click on the little blue question marks for helpful tips and more information.
See What Others Have to Say About Their Bikes
Click below to see some of our users Bikes, and read all about them. Don't be shy...remember, we women motorcycle riders are the adventurous type...right?