Home -> Motorcycle Accessories-> Motorcycle Gadgets
Motorcycle Gadgets
Things that Can Make Your Life on the Bike Easier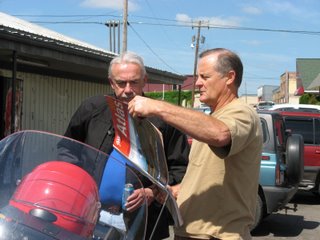 Motorcycle Gadgets - things that you need to have once you see them. Not necessities, but definitely cool little things that make your existence as a woman motorcycle rider a bit better. As one of the few women who ride a motorcycle in our "group," I love to watch the men at the beginning of each long ride, showing off their new "Motorcycle Gadgets." But, what they don't know is that I'm usually listening too, trying to figure out what each new gadget is, and if I need one too.

I do have a few favorite motorcycle gadgets - one of which is completely inexpensive and totally useful. My throttle rocker has been on whatever bike I've ridden since my first Honda Nighthawk.

The throttle rocker allows you to rest your wrist, keeping the throttle at a constant speed for long distance highway rides. My hands are a bit smaller than an average man's, so anything I can do to relieve the amount of squeeze, or to give me some rest is a great gadget. Once you put a throttle rocker on the throttle, you can forget that it is there, and use it as a cradle for your right wrist. So cheap and so useful!

There are other cruise control "systems" that can you let you cruise long distances without using your right hand to keep the throttle rolled at a constant speed. You also need some sort of battery charger, to keep your bike always charged and ready to go. There are various type of battery chargers, you just need to make sure that it is a low voltage charger. In terms of Motorcycle Gadgets, a battery charger is almost a necessity. You can't ride a motorcycle with a weak battery. The chargers that we use: Battery Tender Plus.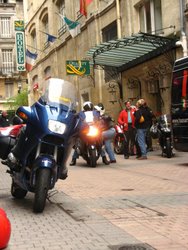 Another very useful of the many Motorcycle Gadgets - for long trips is some sort of hydration system. A long tube connected to a bag of fluid, that you can use when you need some water. I recommend the CamelBak Women's Charm 1.5-Liter Hydration Pack.

A hydration backpack system has a dual function during really hot weather. You can fill the reservoir with ice cubes and water, for a "air conditioning" system and a source of refreshing cold water. You're still going to need to stop for bathroom breaks, but you are going to be cooler on the road.

---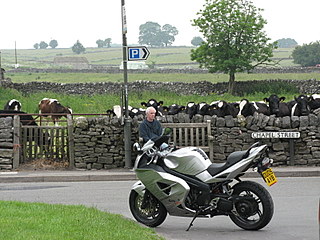 More "must have" Motorcycle Gadgets related to tires - you should really carry a pressure gauge: Digital Tire Gauge

You need a tire repair kit, and you really need to know how to use it. We carry an Automatic Tire Inflation Kit and I keep a tire iron in my tank bag. (Can you tell that we've had our share of flat tires?) Speaking of flat tires, you really should know how to fix one. Not as hard as one might think.

Another good idea is to carry a basic first aid kit. Although none of us like to think that there will ever be a need, it is much better to have equipment and never need it - than the alternative.

---
Radar Detectors
Useful, Especially if You Intend on Speeding
I am not advocating that you break the law and surpass the posted speed limit, but after all, sometimes motorcycles just need to travel a bit faster. Especially on wide open roads, devoid of competing vehicles and traffic. Then - perhaps a radar detector would be a good idea.

Little tiny portable radar detectors are perfect for motorcycles, and can be installed on a little shelf, or even placed in a tank bag.

Most of these detectors allow for the placement of a little speaker in, or near, helmet that will sound the alarm when you come across a police vehicle. Just be careful. If you do get caught, take your punishment gracefully. (Yes, you do sense the voice of experience. Thank you, Mr. Green Bay Wisconsin Sheriff, who complimented me on my female-ness, and then gleefully awarded me with a nice ticket for doing 90 in a 45 mph zone)
---
Navigation Systems
GPS - The Ultimate in Gadgetry!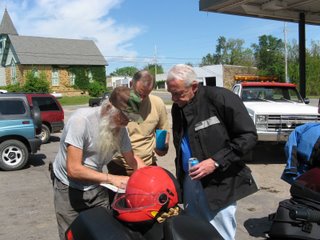 During our last trip in Europe, the bikes with the TomTom navigation system competed with the Garmin systems to see which system was the easiest and the most accurate. In the end, it is my opinion that it is the input of the data that provides the accuracy, not the particular unit. So, as is the case with most gadgets, personal preference will dictate.

So what ever model or make you pick, make sure that the human who inputs the data doesn't make any errors. And, I'd take a map along, just in case. And, maybe a compass?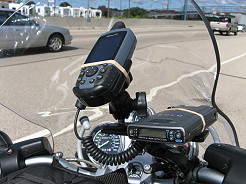 Since we've been traveling with folks directed by GPS systems, we have also learned that some roads (usually dirt and gravel) are not recognized by most satellites. So beware on little country roads. Don't follow the GPS blindly.

I still happen to ride with someone who prefers maps. He says he hates motorcycle gadgets.






---
Somewhere in Arkansas. And no,
I can't tell you where, because we were lost.