Home -> Motorcycle Accessories-> Motorcycle Security
Motorcycle Security
Protection for You and Your Motorcycle


Motorcycle Security: Defined by the motorcycle man in my life as anything designed to protect you, your motorcycle and your gear. Just like an alarm on your 4 wheeled-vehicle, there are various safeguards that you can employ to keep your bike secure.

But, unlike your car, which when locked clearly protects the contents of your trunk, glovebox and back seat, stuff that you travel with on your motorcycle isn't one bit safe when you're not on the motorcycle.

I tend to think that there is such a thing as a "motorcyclist's code of honor," meaning that you just never never violate someone else's motorcycle, that includes the bike and anything on, or near it. If you are in a crowded parking lot, full of motorcycles, I'll bet that you don't see any violations of this unwritten rule. Not once. This being said, it's not a good idea to leave your "stuff" unattended. If you have a tank bag, and in it you keep your wallet, camera, driver's license, and other personal effects, either lock the tank bag, or unhook it and take it with you.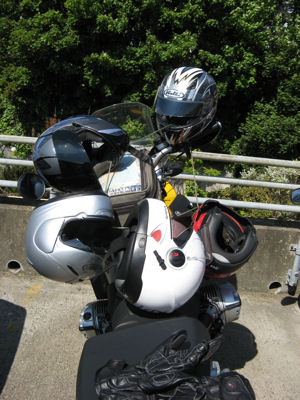 If you have hard side bags, you no doubt have the ability to lock stuff inside. Rather than leave your jacket draped over your motorcycle, lock it in the hard bags. If you're like me, and have totally packed every spare inch of your hard bags (both), then you should either take your jacket with you, or use an anti-theft cable to weave through your jacket and lock it (and your helmet) to your bike. No brainer.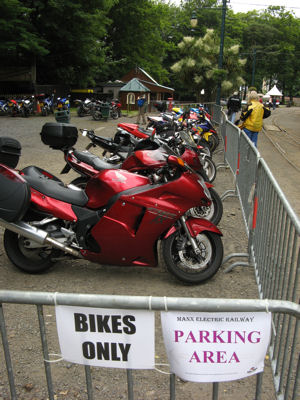 Locks: Easy and Cheap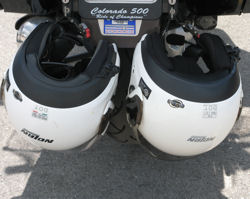 My BMW has a helmet lock under the seat. Check your manual, or investigate underneath your seat. This handy little hook is a great way to keep your helmet safe.

Now, that you've got your stuff all safe, either stowed away, locked or with you, let's worry about the motorcycle. You can always have an alarm installed, or use an alarm locking system. There are various types of cables and chains that can be used to secure a motorcycle, along with cable lock alarms. There are also many disc locks available, many of which are quite affordable and easy to use. (From the novice files: Don't forget to remove the lock before trying to move the bike - just kidding, that I've never done. Really!)

One of the easiest theft deterrents is also one that will protect your motorcycle from the elements. Yep, that's right: a cover. Easy to use, capable of locking with a cable lock, and your seat will be dry in the morning. For some great examples of alarms and locks, click here.
Some Really, Really Useful Things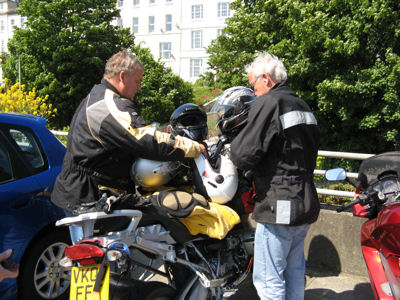 Can you spell duct tape? Buy some, and stick a roll in your tank bag and all of your bags for that matter. I never used duct tape before I started traveling on my motorcycle. Now, I really can't believe that I lived before this discovery.

People have written books on the many uses of duct tape, so I'm going to leave the lists to others. Just trust me on this one. Duct tape is good for motorcycling, and for motorcycle security.

Also, an often-over-looked item, a kick stand plate, will keep your motorcycle upright on wet gravel, mud and hot asphalt parking lots. If you have a steel disk handy in your tank bag, you won't waste any time looking for a nice flat rock. Simple, but exceedingly effective.
Other Security Tips:


If Traveling in a Group, Give Another Rider a Key to Your Bike.
(Can you hear the voice of experience?)
Stick a Flashlight in Your Tank Bag
Some Kleenex Would Be a Good Idea, Think Really Bad Public Restroom.
Travel With a Cell Phone
Make Sure You Write Down Any Alarm Codes or Lock Combinations.
Buy More Duct Tape.
A Tire Pressure Gauge - Place in Tank Bag
Keep Some Basic Tools in Your Tank Bag.
Keep Extra Fuses with You at All Times.
Invest in a Tire Repair Kit and Learn How to Use It.