Home -> Motorcycle Riding Gear Online-> Motorcycle Boots
Motorcycle Boots
A Sometimes Hard to Find Motorcycle Accessory


Motorcycle boots are a necessity, and for this rider, a very hard-to-find necessity. My current boots were purchased in Freeport, Maine, at the L.L. Bean store, during our Nova Scotia trip in 2001. These boots were not designed specifically as motorcycle boots, but they have been my most favorite pair. Plain black leather, waterproof, lace up, short boots with thin rubber soles. They are comfortable, comfortable and light. Meaning that I don't feel as though I picking up my feet encased in concrete each time I take a step. These boots don't rub anywhere, they are soft and flexible, warm in cool weather and cool in hot weather. Most importantly, these boots are wearing out. Having not been designed for a motorcycle rider, the left boot doesn't have protection on the top for the impression of the shifter, and although I've been somewhat careful to not use just one spot on the top of the boot when I'm shifting, the leather is getting pretty thin on the top of the left boot. And the thought of having to replace this most favorite pair is killing me - L.L. Bean hasn't had them in stock for years.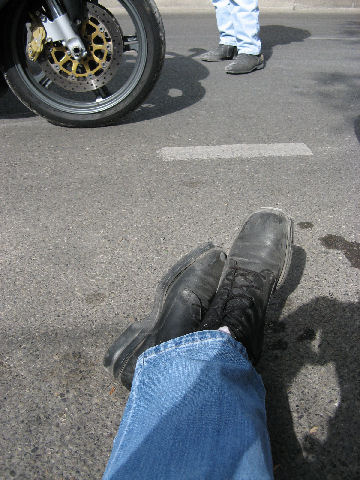 My point - once you find a pair of boots that work for you, buy two pairs. Cherish them, polish them, love them. They will pay you back by keeping your feet warm, and dry. Your well-loved, well-cared-for motorcycle boots will keep your feet comfortable when you are on and off the bike.

What Do I Want from a Boot?


Comfort
Fit - No Pressure Points
Adjustable - Either Ties, Velcro or Something
Waterproof - (Important)
Lightweight
Rubber Soles
Stylish
Ventilated
Leather, Not Pleather
These are my requirements; you may have different issues. I think that the only must-have is waterproof. You really don't want to have wet, cold feet. Trust me! The best waterproof boots are made out of gortex and are much better than rubber boots.

I have tried other boots - hiking boots, and boots manufactured by BMW, but they are either too heavy, too inflexible, not waterproof, or just not "me." I've also seen boots branded with the Harley logo, and Doc Martin boots that look serviceable. And I am aware of other boots that have recently entered the women motorcycle rider market. SIDI, for one, has a pretty good selection of boots for women.

Have fun shopping. Remember, you can never have too many pairs of boots, can you?

Her Motorcycle
Our Newsletter