Home -> Motorcycle Riding Gear Online-> Motorcycle Boot for Women
The Perfect Motorcycle Boot for Women
What is the Perfect Women's Motorcycle Boot for You?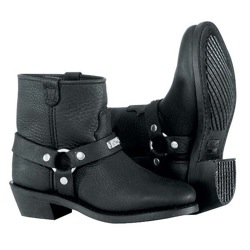 You might think that choosing a motorcycle boot for women is as easy as it would be when you choose one for a man. However, it takes a little bit more than that to correctly choose a pair of motorcycle boots for a woman. Since women are very style conscious, you have to first know the essential things that a woman wants to have in her pair of boots. Also to consider is a woman's height, the type of riding she does, and the kind of motorcycle she rides. Nevertheless, there is always something for everyone in the women's Harley Davidson boots collection.

Women who ride a cruiser would prefer to wear a more classic styled boot. This is just right since women tend to match their preferences from apparels to motorcycles. Women who are involved in sports racing would definitely pick out something that is made for motorcycle racing. This goes to show the women are most likely to pick out functional yet stylish boots at the same time.

Whatever style the woman prefers to have, it still boils down to how the boot fits the woman's feet. This should be the most important consideration to make. The fit of a boot should be firm but not too tight. It should also lace up or zip up, depending on the type of opening/closing system the boot has, securely above the ankle. This should be so in order for the boot to provide support in balancing the load of the bike and also so that the boots will not come off during an accident.

Women who frequently go on long distance drives on their motorcycles should consider having a waterproofed motorcycle boots. Exposure to the harsh conditions of the environment will lessen the lifespan of a motorcycle boot, which is why it is necessary that the boot chosen will handle this just fine. Waterproofed motorcycle boots will extend the life span of the boots as well as give comfort to the rider. Several boots from the women's Harley Davidson boots collection are waterproofed for this reason alone.

Boots with steel toes can be very good choices because it gives a woman more protection for her feet in the event of an accident or fall. The sole design is another factor which will improve the total riding experience of a motorcycle rider. When you buy a pair of motorcycle boots for women, make sure that they aren't the usual cowboy boots because these boots do not protect the rider fully. The soles of these boots are smooth which can lead to sliding on wet surfaces. Good motorcycle boots provide good traction in both wet and dry pavements.

Boots with deep rubber soles are your best bet if you want a pair of motorcycle boots since they give you excellent traction and helps absorb vibration. If you feel that leather is too much for your feet to handle, then you can opt to get boots that offer some ventilation in its make. Most importantly however is you choose boots that will allow you to freely control your motorcycle without so much of a hassle.
Related
Finding the right motorcycle boot and gloves - you gotta have 'em!
Finding the right motorcycle boot for women is sometimes a hard accessory to find, here is a short article on my journey.
Her Motorcycle
Our Newsletter