Home -> Guest Articles->
Motorcycle Boots and Gloves
Motorcycle Boots and Gloves
One thing you'll find after you've been riding for awhile is that you will be futzing around with your gear a lot, until you feel like you get it right. That feeling of finding the perfect piece of gear is a great one. I've found a perfect pair of boots. I wear them every time I go out riding. I feel like the boots go with everything I wear when I'm riding and that they express my personality. But most importantly, they fit great. They are broken in and they have sort of molded themselves to my body. I like a knee-high boot, so finding the right calf size was a bit of a problem, but ultimately solvable. But the boot fits so well and feels so snug that I feel like nothing could go wrong on my bike that I couldn't stop with my feet!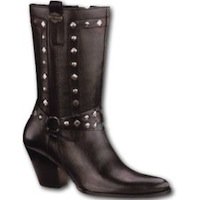 Finding the right boots can take a lot of time and patience. You'll have to try on many, many pairs of boots until you find the one you think you can commit to. I wouldn't advise doing this through online shopping, unless you find a site that has free shipping and free returns! You'll want to find boots that are specifically designed for motorcycle riding. You'll want a boot with a low heel, so you can maneuver easily. I found that a leather bottom is the best material for me. My boots have a fairly thick sole, which absorbs a lot of the vibration from the bike. I've tried boots that have a thinner sole and they don't feel sturdy enough. And a sole that is too think feels like I have no connection to the bike through my feet, which makes me uncomfortable.
Like I said, I like my boots to cover my calves. Although I live in a temperate climate, I don't tend to get overheated easily. I like the way the boots feel hugging my calf and I like knowing that my lower legs will be protected by the boots I'm wearing. My boots have a Gore-Tex lining which I've been grateful for many times over. There is nothing I hate worse than having cold, wet feet and the Gore-Tex lining have saved me from that fate over and over.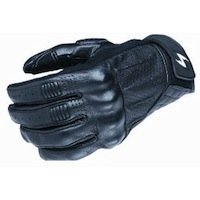 The other essential item I've found, finally, is the right pair of gloves for me. Just like with my boots, I wouldn't trade these gloves for anything in the world. They took me a long time to find and I'm not giving them up! I spent a lot of time trying to decide whether or not I wanted gloves that would cover my jacket sleeves. I tried some that did, and although they provided a lot of wind and rain protection, I found them a bit uncomfortable to wear. Many people swear by them, but not me. Again, I live in a more temperate climate and am not battling the elements on a regular basis, but I like my gloves to be a little bit lighter in weight and to have easy maneuverability. I like to tuck my gloves into the sleeves of my jacket, where they stay because my jacket sleeves are tight to my wrists.
My gloves are flexible and well made, and cost a fair amount. But in the end, I decided that they were worth it. And I think this is the point you can make with all gear. You don't have to buy what someone else has deemed to best of anything, but you should think for yourself and try on many different styles and brands until you find one that fits your needs.