Home -> Why Ride!
Women Motorcycle Riders - Why We Ride
Women Motorcycle Riders - I am proud to a member of this small, albeit growing, group of motorcyclists. Yet, I often wonder if other women ride their own motorcycle for the same reasons that I do.

Yesterday, while riding on a rural road - the temperature perfect, the weather perfect - blue skies, no clouds - I thought about just ideal the conditions were for motorcycling. Just perfect. I was comfortable, the motorcycle was behaving exactly as it should, and the most overwhelming sense of well-being came over me. But, it was more than a sense of well-being - it was a feeling of complete awareness of the perfection of the moment.

Then, my next thought was: Of course this is perfect - look at the road, the lack of traffic, the weather - I am riding in the best of all possible conditions. Who wouldn't want to be among this group - this group of Women Motorcycle Riders? Since I wasn't worried about anything around me, I then started thinking about days on which I have ridden in less than ideal conditions. Days on which I didn't have an opportunity to think about why I ride.

Riding in the rain, being cold - riding on rough roads, steep inclines and hairpin curves. Riding with a helmet visor that needs repair, a jacket that is too warm, sweat running down my back - why do I choose to ride my own motorcycles on these days?

For me, it has to be more than just that feeling of perfection that comes while riding in ideal conditions. It's the challenge of making it through the bad mornings, leaving in the rain and arriving in another state in the early evening, with clear skies. Sometimes, it is about being one of the guys - until, I de-helmet and shake out my hair.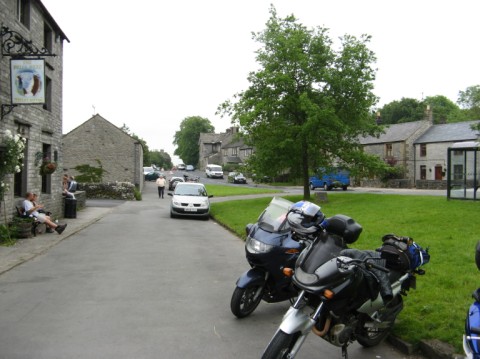 It's about the powerful feeling that I have - of being able to maneuver this two-wheeled vehicle, adeptly and expertly. It's the the relief I feel when I arrive at my destination at the end of a rigorous day of riding.

Yep, there are a variety of reasons that I ride my own motorcycle. Probably more that I consciously can know.
Why Do You Ride?
Have you ever thought about why you choose to ride your own motorcycle? Let's tell the men - why do we: Women Motorcycle Riders - ride?
See What Other Women Motorcycle Riders Have Said
Click below to see contributions from other readers.