Home -> Long Distances
Long Distance Motorcycle Travel
To be, or not to be, an Iron Butt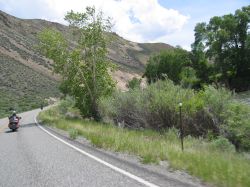 Not for the faint of heart, long distance motorcycle travel can make you feel as if the motorcycle is a part of you. My longest day on the bike was about 10 hours, and 800 miles. Pure highway riding, it is a day that I don't want to soon repeat.

However, since most of our vacations are done on the motorcycles, I have become quite used to spending day after day on the motorcycle - from dawn to night fall. Every waking hour on, or near the motorcycle.

Some days, spent getting from one destination to another, are purely about endurance - especially, if the highway is the means of getting there. On long days of highway riding, you need to learn ways to keep yourself amused, while at the same time alert and in tuned with the road and surrounding traffic.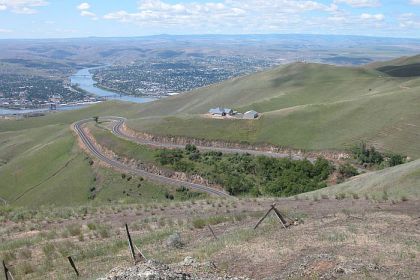 Back in the beginning....
I recall a group ride not long after I started riding, when we rode for 60 miles (more than an hour) without stopping. I struggled to keep up with the rest of the group, and yearned for a "break" long before we stopped. I remember telling Bob that didn't ever want to ride that many miles again without stopping. He laughed.

I know now that I can easily ride for an entire morning - from breakfast to lunch without stopping. And I love every blessed minute of it.

The difference between the "beginning" and now - experience, and the ability to endure. I've learned that riding for hours at a time is really no different than driving for hours. You use the same skills - the ability to be alert; the ability to enjoy the process of riding (or driving) and the skill of experiencing the environment.

I've also developed some other tricks for long distance motorcycle travel:
Use an IPOD for music or audible books.


Watch the mileposts - count along with them.

Know approximately where you are going to stop, and count down the miles - arithmetic helps the mind stay alert.


Make a plan to stop every hour, or every 60 - 100 miles.


If you get sleepy, stop for coffee or caffeine.


Use the buddy system when possible - don't go it alone.


Look for foreign license plates - keep a running tally in your head.


Change position frequently to keep limber.


Vary the air intake on your helmet, or change the position of your windscreen.
Most importantly, enjoy the experience. Look at everything that you are experiencing on the bike, that the drivers of the other vehicles are missing. And keep in mind, that some of those other drivers are envious of you.