Home -> Lolo Pass
Lolo Pass - The Northwest Passage, US 12
Lolo Pass - Northwest Passage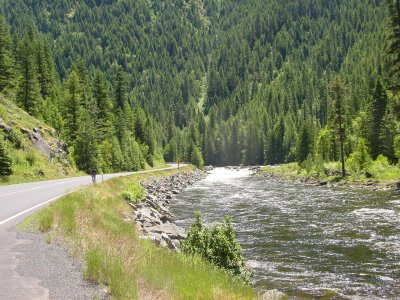 Bob put this trip together for our motorcycle group, and we left for Jackson Hole, Wyoming in early June. All total, I believe that there were 30 people on the trip - a good turnout for a two week summer motorcycle trip.

One of the highlights of the trip was the Lolo Pass, which I subsequently learned was in Idaho, US 12.

The Lolo Pass runs parallel to the Lochesa River, and is truly one of the great motorcycle roads, in terms of scenery and road configuration. No hairpin turns, rather broad sweeping curves which can easily be ridden at speed. Curve after curve, you are confronted with Idaho's beauty at it's best, and clear, clean air. I could smell the river, and even with my helmet on, could hear it as we rode by.

At various points, you can look over at the river and see canoes, rafts and/or tubers - and they are moving quickly.

What I found most wonderful about this 77 miles of winding road: It is totally unspoiled. No billboards, no McDonalds, no gas stations. It's pure nature.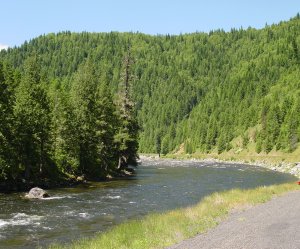 Interestingly, the road signs update along the road, telling you just how many miles of winding road you have left. Instead of looking at the updates with excitement, that you would be soon done with the road, I looked on them with dread - what? Only 27 more miles like this?
Near the border with Montana, is the Lolo Pass Summit and tour center and gift shop. We took an obligatory picture at the Summit sign and then went in to the shop and bought some souvenirs. Then we road the 77 miles down, back to Kooskia where we had started out in the morning. It was glorious.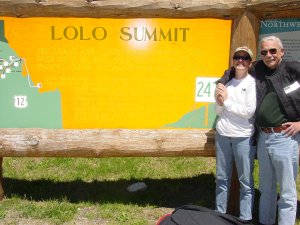 Video: Ride the Northwest Passage with Me!
Watch the video of the Lolo Pass with the river alongside the road. The video also shows the road back from Lewiston, Idaho to Bosman, Montana. Enjoy!


Ride through Lolo Pass on BMW K1200S
Follow the Map - But You Won't Find a McDonalds
To really appreciate this road, you need to zoom in on the map - Not as creaky as the Dragon, but just as wonderful.
I wish I had taken more pictures, but that would have meant stopping. Yep, it's that good. So after you've ridden the Lolo Pass a few times, put new tires on your motorcycle and eaten your share of red meat and really fresh french fries, what else can you do when in Idaho?
Well, for one, you can check out Hells Gate, the gateway to the Hells Canyon National Recreation Area, where you can partake of various water sports.
You can ride the GoldRush Historic Byway, which begins east of Orofino at the junction of US 12 and State Highway 11. You will pass several Lewis & Clark historic sites, a logging museum, the Bald Mountain ski area, and the Clearwater National Forest.
You can just ride the wonderful roads throughout Idaho! And, remember to bring your stretch pants for the flight home. I gained about 8 pounds on this vacation, and had to buy new pants in Jackson Hole prior to leaving.