Home -> Great Roads
Great Motorcycle Roads
Facts, Features and Information About Some Truly Great Motorcycle Roads


Great Motorcycle Roads

Yet another area of subjective assessment and personal opinion. I am sure that all motorcyclists have ridden on roads and routes that were deemed to be "great" for motorcycling. I'm not so sure, however, that we would all agree on just what makes a road "great."

I have ridden on so many "great" roads - and would have a truly difficult time picking one as being the greatest. Some roads I remember for the twisties, others I recall because of the great scenery.

Some roads were so technically challenging as to be thrilling, leaving me with a sense of accomplishment and relief at the end. I recall desert roads, stretching for miles with broad sweeping curves and plenty of opportunities for speed. Mountain roads, narrow paths through forests and parallel to beaches and rivers - so many roads seem to have been designed for motorcycling and would, without a doubt, qualify as "perfection" when it comes to motorcycling.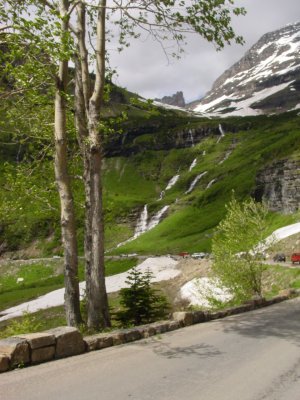 Living in the Midwest, where hills and curves are sometimes a bit harder to find, we tend to look for roads in areas that are other than flat. Mountain roads, with switchback after switchback are often considered to be great for riding. But, give me broad "sweepers" ridden at speed, and I'm in heaven!

My motorcycle man thinks that the best motorcycle roads have a lot of changes in elevation and direction - meaning hills and curves or twists.

I also have to classify some roads as "great" because of the fragrance and aroma - the Adirondack mountains with the smell of the woods, the farmlands of Wisconsin with the smell of manure and dirt, and the fields of clover in France.

Ah, so many roads... I know that there are many, many roads that are great for motorcycling. The only problem is: There is not enough time to ride them all. Let's live through each other.

Think about where you love to ride your motorcycle. Where is your favorite place to ride? You may live in a region of the country that is particularly scenic - full of curvy, twisty, sweeping roads.

Maybe it's right in your own neighborhood. Maybe you'll think of a vacation spot where you rode - maybe some place in Europe.

Then think about why you thought of this particular road. What about it makes it great for motorcycling? Was it the scenery - the smell - the challenge of the road?

Click Here to share your "Great Road".

Share your road with me, and the readers of Her-Motorcycle - maybe we'll pass each other on your road in the future! (I'll be the one on the bright yellow motorcycle).