Home -> Motorcycle Touring In Europe-> Traveling the Isle of Man
Traveling Isle of Man
Roads, Turnabouts and Ferries


Traveling to the Isle of Man was a process. We had been in Scotland for the prior week, and traveled to a hotel back in England, closer to where we would need to be for the ferry. So, we traveled for a day just to get near where we needed to be.

Our departure was scheduled for 3 p.m. on Saturday, June 2, and we were instructed to be at the ferry wharf 2 hours in advance. In order for our group to leave together, we were further instructed to meet at a pub about 9 miles from the ferry in Heysham, and to be there at 11:00. Given our level of excitement, we got there early - before the pub even opened. We had a proper English lunch of fish and chips, and then traveled in-mass to the ferry.



Beginning Our Trek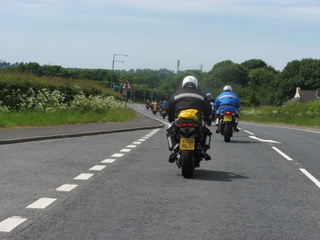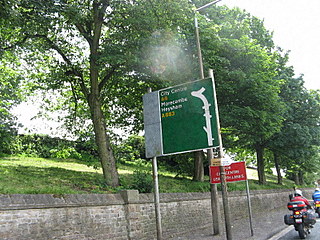 On the way to the ferry, we encountered a few traffic lights, and at least two roundabouts. Problematic when trying to keep a group of 21 motorcycles together. Somehow we did it.

Roundabouts are seldom used here in the states, but are a pretty novel way of directing traffic. Various streets, in different directions, are directed out of a traffic circle - vehicles traveling right have the right-of-way, so you always are to yield to vehicles on the right. Very civilized, and it works well as long as there is a break in traffic to your right. Motorcycles have a bit of an advantage, as you can sneak in quickly in between vehicles. Some roundabouts have traffic coming into the circle from traffic signals, others just rely on the "yield to the right away" theory. Either way, you need to pay attention to which road you need to take from the circle, and keep yielding to the right.

Riding Through a Roundabout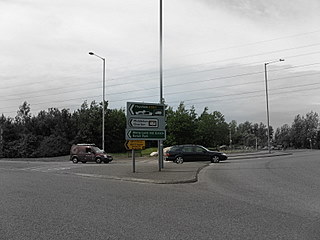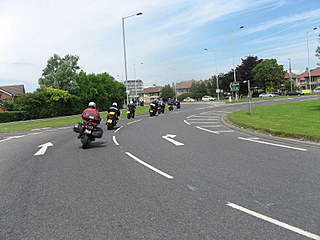 Once we arrived in Heysham, we found out that the ferry would leave on schedule, but because of the volume of people needing to board we were directed to a site a distance away from the wharf to queue.

I can honestly say that I have never seen so many people with motorcycles waiting to board a ferry. Although I've traveled with my motorcycle by ferry before, never in such a crowd. Everyone was calm and collected, but obviously excited about the trip.

I saw some great classic bikes, and others extremely well-packed for the week ahead.

Extremely Clean Older Kawaski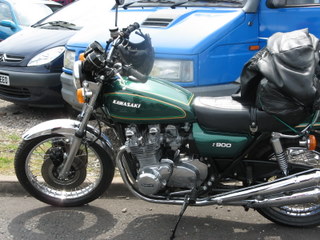 Traveling Queue
After waiting about an hour in the first queue, we were directed to another "holding area", packed with waiting riders and motorcycles.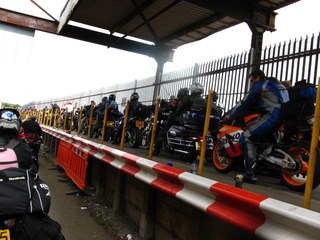 Finally, pretty much on schedule, we were directed onto the ferry.

Inside the bowels of the boat, more motorcycles than imagineable were directed, and parked.

The bikes were so close together, once onboard, that is was difficult to get off the bike, and into an aisle for boarding the inside of the boat.

Boarding the Ferry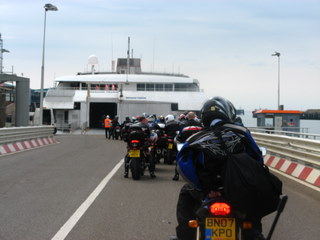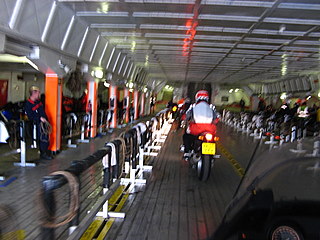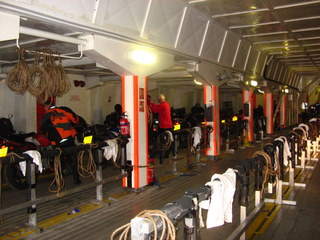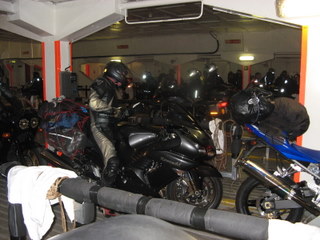 Our ferry trip lasted about 2 1/2 hours because we were on the "cat" which is a faster, hydroplane type of boat. The larger ferry, which holds many more, is slower and takes about 4 hours to cross the Irish Sea.

We arrived in Douglas, the largest town on the island, at about 6 p.m., and located enough members of our group to travel together to our hotel in Ramsey. The scenery was breathtaking as we traveled north, with the sea to my right.

Riding the Streets of Douglas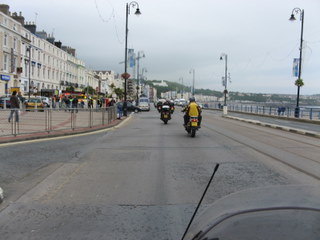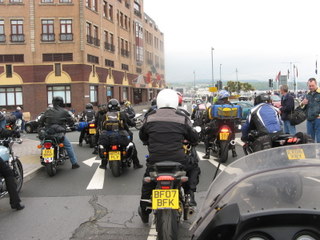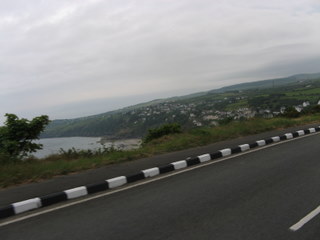 Tips for Ferry Travel - From the Novice Files
Call and ahead and find out if you need to bring tie-downs with you.
If you need your own tie-downs, learn how to use them in advance.
Bring some old towels for padding on your bike.
Beware that the ramp and the floor in the ferry may be slippery.
Ride slowly, both on and off the ferry.
If the ferry workers secure the bikes, let them. They know what they are doing.
Don't leave your helmet or your jacket with the motorcycle.
Take your motorcycle bike key with you.
Make sure that you get down to your bike as soon as you are allowed.
Don't lock the front tire, or use an alarm - the bike isn't going anywhere.
Enjoy the ride!