Home -> West Virginia
West Virginia Motorcycles
West Virginia Motorcycles - there is no better combination! I had not every traveled to this beautiful state before, and when Bob suggested it for our honeymoon motorcycle trip, I agreed - mainly because he was so excited about the prospect. A few years ago, the BWM MOA Rally was held in Charleston, West Virgina, and although I did not attend, Bob did. He has raved about motorcycling through West Virginia ever since.

The rally slogan: Almost Heaven - West Virginia

That is the tune that kept going through my head as we traveled from New York, through Pennsylvania on I79 - and when we arrived in Morgantown, I knew the slogan was accurate. Morgantown in the site of West Virginia University and the Mountaineers, and it is a hilly little town right over the border. We stayed here for the night, having traveled all the way from Niagara Falls.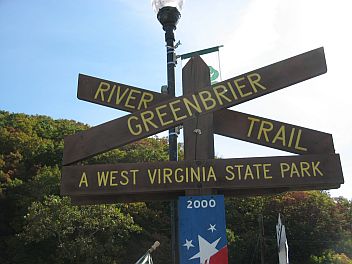 I knew that the ultimate destination was Pocahantas County, which would have to wait for the next day. I wanted to be awake and ready for what I knew to be some of the very best roads for motorcycling in West Virginia.

As we rode south, I began to realize just how accessible this state is - to the southern US, northern states, and certainly the midwest. We were able to ride to West Virginia, comfortably, from northern New York in one day - and arrive before dinner. Certainly if these roads were that wonderful, we would not be alone - there would be motorcyclists everywhere.

U.S. 219 Robert C. Byrd Scenic Highway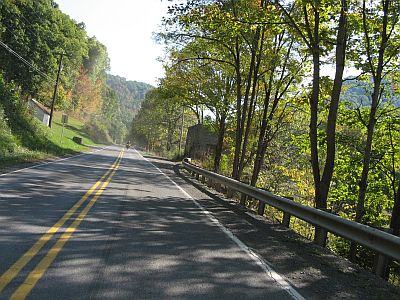 One of the most memorable roads is actually a highway - named, in parts, for the mighty Senator Byrd - who has been representing the interests of West Virginians for decades. US 219 traverses this State from the border with Maryland to the opposite South West corner. But this is no usual highway - the views are absolutely magnificent. I failed to get pictures because I simply did not want to stop. As you would expect, the road surface is pristine - the curves are sweeping and showcase mountain vistas in the distance.

While traveling on US 219, you'll experience the Cheat Mountain area, Lewisburg and Elkins. If you go as far south as Hillsboro, you'll be rewarded with some twisty roads nearing perfection.

If you have the time, cross West Virginia on US 219. Then turn around and do it again.

If you don't have time to do that, use US 219 to get to the best roads in West Virginia - in Pocahontas County. Here, you could spend DAYS.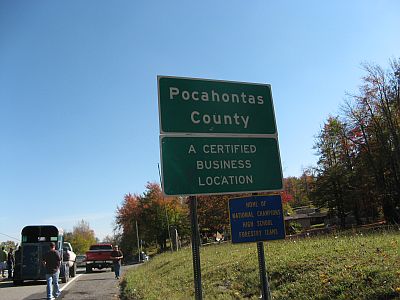 Pocahontas County, West Virginia left me speechless - yes, the roads are that good.

Not hairpin turns, or switchbacks, but magnificent high speed twisting curves through forest land and mountain elevations.

There are enough towns to make things interesting - make sure to stop in Marlinton - the county seat, and check out the Cass Station Railroad depot and store.

You can stay in various forms of lodging on Snow Shoe Mountain, or in a charming roadside motel in Boyer, where you'll need to have a wonderful home-cooked meal at the Boyer Station Restaurant.

Just do not miss Route 150, The Highland Scenic Highway which travels from Rt. 39 at the top of Kennison Mountain to U.S. 219 at the top of Elk Mountain just north of Marlinton. This road cannot be missed. All mountain-top with views that go on for ever. You, too, will be speechless.