Home -> Motorcycle Riding Gear Online-> Women's Motorcycle Jackets
Women's Motorcycle Jackets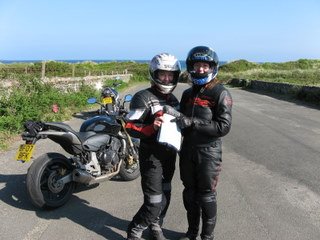 Womens Motorcycle Jackets: Who would have thought that finding a perfect ladies motorcycle jacket would prove to be more challenging than actually riding the motorcycle? Not me, for one. But after sixteen years of riding, I have yet to find the ONE jacket that is perfect for every ride. Not surprising, however, when you think of everything that a motorcycle jacket needs to provide: fit, warmth, protection, wind and water proof, ventilation, flexibility, movement, and STYLE.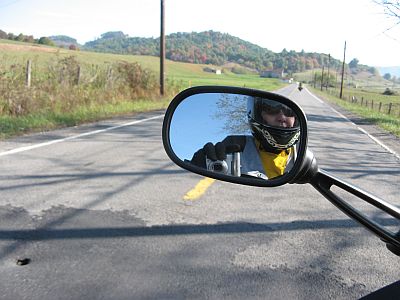 From the novice files: My first motorcycle jacket was a hand-me-down from my boyfriend's son, and was a leather bomber jacket. I loved it, and thought that it fit perfectly. I found out otherwise on my first high-speed highway ride, when the jacket took in air from every opening and ballooned up around me. As soon as the speedometer reached 50, I was almost blown off the bike. Thankfully, we were only on the highway for a few minutes, and I was able to collect myself and ride on. The jacket, however, never rode again. I have since learned that there are leather motorcycle jackets that are perfect for riding.

So, I determined that the fit was an important feature of the next jacket. I bought a REAL motorcycle jacket while in Spain on my first overseas trip. I couldn't believe the difference that I felt when riding in a jacket that was actually wind-resistant. No more battling the elements for this girl - I found the perfect jacket.

This may have been the perfect motorcycle jacket, however, it was stolen out of my garage before the next riding season, and was not easily replaced given it's country of origin.

But, I learned the importance of a close fitting jacket - a necessity if you are going to ride faster than 30 miles per hour.

The Perfect Jacket Should Keep You Warm!
No brainer, huh? Not so quickly. Sure, you want to be warm in the perfect women's motorcycle jacket. I learned really quickly that 45 degrees while drinking your morning coffee outside feels much colder once you are moving at 50 - 65 miles per hour. Close fitting helps, but it's even better if you have a liner, especially a heated liner. If you ride a bike without the ability to plug in a vest, then you need to layer with thermal clothes. If you layer too much, then you lose the ability to move. See the problem? Motorcycles and snowmobiles are not the same in terms of how you need to move to operate the vehicle.

Each year, as the selection improves, you can find a women's motorcycle jacket with a detachable inner-liner - great for really cold weather. An inner-liner is also great when you start out in the morning in the 40's, and it's in the 80's once the sun comes up. You can even find inner-liners that allow you to plug in to your motorcycle for some added heat. (I have one of these, and love it, love it, love it!)

Click Here for Heated Motorcycle Apparel


The perfect women's motorcycle jacket also needs to be wind and water proof. Riding in the rain is fun enough without it soaking through to your undies. If you insist on wearing leather, then invest in a rain suit and keep it with you. Even the lightest rain suit will provide some protection from the wind. A soaking wet leather jacket is not only uncomfortable, it's really heavy.

You also need the protection of the your jacket should you and your motorcycle part company. (IT does happen) Some women's motorcycle jackets come with built in armor, intended to protect the likely points of impact, but I have found that the armor is uncomfortable and hits in the wrong place, reducing my ability to move and flex. Try it on, move around, and if it seems to work for you, you'll definitely be more protected.

The Perfect Motorcycle Jacket Needs to Breathe
Huh? Look for zippers under the arms, near the cuffs of the sleeves, and in the mid-back. You'll need these when the 45 degree morning turns into a 90 degree afternoon. Trust me.

I rarely, if ever, ride without a jacket. Just my opinion, but I think that you are tempting fate. But, I've been fairly comfortable in extremely hot weather in a well-ventilated jacket. Open the zippers and go.

Summer-weight jackets have vents to open, and some are even made of mesh material. Great in really hot weather.


The Perfect Women's Motorcycle Jacket Must Let You Move
Yep. You need to move to ride the motorcycle. You need the ability to turn and look behind you; you need to be able to lean into the curves. And after being on the road for a while, you need to be able to change positions. You need to be able to move your arms, up - down, back and forth. Bending at the waist in great, especially if you want to be able to get on and off your bike.

Enough said? A close fitting women's motorcycle jacket, yet one that will allow you to move. Try them on, and move around. Exaggerate the movements, see what limitations you have in the jacket. Just like shoes, most jackets will relax some when worn, but you still need to be able to move from the beginning.

Leather Motorcycle Jackets are the ultimate motorcycle accessory for some, but they need to be supple enough to allow you to move, and come with vents to let you breathe.

For the very best in leather jackets, check out Fox Creek Leather. Their jackets are made from full grain naked leather which is supple and velvety smooth to touch. Because naked leather has only been dyed and is not finished, a dull luster highlights the unique detail of the jacket's grain. The suppleness of the leather allows it to hang naturally on your body and gives it a comfortable, almost familiar, fit the first time you wear it.

Their vented jackets, including the Racing, Women's Classic 1, and Women's Classic II, will keep you comfortable on the road any time of the year. In the winter, impenetrable cowhide cuts through the wind, and you can let out the adjustable sides to accommodate layering for extra insulation. In the summer the liner comes out and vents open, allowing cooling air rush through the mesh shell and over your body.