Home -> Motorcycle Riding Gear Online-> Motorcycle Pants Directory and Resources
Motorcycle Pants Directory and Resources
In my mind, there is a need for a Motorcycle Pants Directory and Resources. After all, this is the most difficult-to-find item of motorcycle gear for women - riding pants that fit, and are comfortable to wear while sitting on the seat for long stretches of highway.

Having spent too much time trying to find the right pants, I wanted a place where I could find all the possible sources of motorcycle pants - especially those for women. A place where I could find leather pants, chaps, textile pants, and even butt comforting motorcycle pants.
(Is there really such a thing?)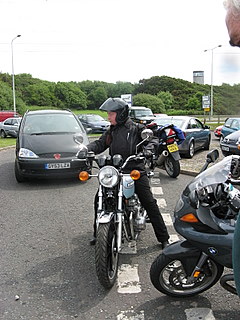 My favorite riding pants are blue jeans, but I have to admit that they are not the best choice - safety wise. Wise to the "blue jean" preference of many bikers, the market responded a few years ago. You can buy motorcycle pants made out of denim, with reinforcements on the areas of potential contact. Several manufacturers now make jeans specifically intended for riding:

NOTE: All links will take you to a new page - please use your browser's back button to return to Her-motorcycle.com -



$89.99 - Cortech DSX Denim Pants
Otherwise, for heavy-duty highway riding, I've got some textile pants to wear over my jeans - with protection at the knees. Much better choice, and an added layer of warmth on cold riding days.
A great example of similar "over-pants" are the Firstgear Women's HT Air 2.0 Overpants
, with a removable inner liner.


For a great example of fabric pants, with added protection, I like the Tourmaster Women's Venture Pant
, a bargain at $112.49. These pants have removable armor, and an inner liner for warmth - that can also be removed. If purchased in a size larger, you could wear your jeans underneath, but because these are also waterproof, they would make great pants to wear alone.

If you want to go with a leather motorcycle pant, my recommendation would be Icon Women's Bombshell Pants, a bit more expensive (at $275.00). My favorite feature of these pants is that they can be cut to length - meaning that those of us with longer inseams can buy pants that are long enough. Very useful feature.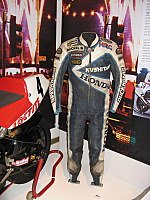 People who wear leather pants swear to their comfort - I have not had the courage to attempt to fit leathers on my ample thighs, but with a few pounds off, I might.

An alternative to full leathers would be chaps - a bit more forgiving perhaps, and definitely worn by many women riders - especially when on a cruiser. Among the best choices: Icon Women's Bombshell GOGO Chaps
. For low-rider jeans, and I also really like the Women's Chaps and Overpants made by Fox Creek Leathers.

More Choices:
No Motorcycle Pants Directory and Resources page would be complete without a listing of some other pants, which might not be specifically intended for riding, but still work, and often - fit better. Remember, because these pants are intended for other outside sports, they lack the knee protection of other pants -
Here are my top picks:
$180.00 - Women's 686 Times Levi's 508 Insulated Pant
- great cold weather choice.

$64.76 - Marmot Women's Precip Full Zip Pant
- good pick for rain pants or warmer weather riding.