Home -> Honda Motorcycles
Honda Motorcycles
The Honda Motorcycles women love to ride!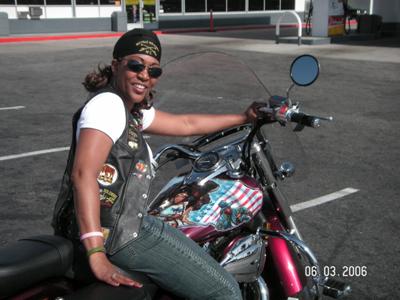 Let me introduce you to Aj "Suga Soldier" Coffee from Albuquerque, New Mexico. She is sitting atop her 2004 Honda Shadow Aero 750. What a smile! Don't you love that tank! AJ describes what is on her gas tank in a post she sent us called Enjoying the Enchantment, Loving the Legacy... Buffalo Soldiers! back in late December 2010. This page is devoted to all the submissions that you have sent us about the Honda Motorcycles YOU love to ride. We've been asking since 2007 what is the Best Bike and you have spoken. Honda is the second most popular motorcycle, after Harley Davidson, that you have told us that you love to ride. The results are close too! Harley may be the most popular here on our site, but a lot of women love to ride Honda Motorcycles and we have featured them here in their own words. Our collection of articles is not written by professional writers. Every article here is has been written by a woman who loves her motorcycle and she has sent in her reasons to us to publish on our site. These are her words and I hope you enjoy reading our collection sent in to us by women who love to ride Honda motorcycles.
Share Your Bike with the Readers of Her-Motorcycle.com
If you are a woman motorcyclist, and you are riding what you believe is one of the "best bikes" for women, send me a note and let us all know!

I'll post all submissions that are consistent with the content of "Her-Motorcycle.com" - so just keep it clean, and you'll see your story once I've had a chance to review it.

NOTE: If you have questions about the form, click on the little blue question marks for helpful tips and more information.
See What Others Have to Say About Their Bikes
Click below to see some of our users Bikes, and read all about them. Don't be shy...remember, we women motorcycle riders are the adventurous type...right?