Baby Girl is Not Your Everyday Girly-Girl
by Daniele Summerfield
(Dallas, NC)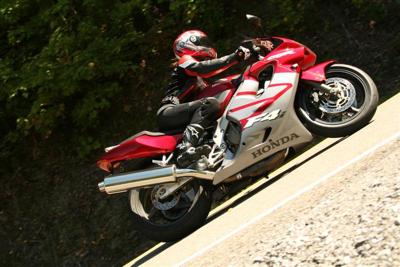 The F4i
It was Saturday morning before Labor Day when I got the call. "We'll meet up and you can take a look at her". After a few hours their Honda, 1000RR Repsol edition was ours. I was the first to ride her to a friends house to show her off while my husband drove in the truck.

3 years prior, my husband and I along with a few other friends, were coming home from a 400 mile run in the NC, TN mountains when he "tossed" his 1000RR off the side of the mountain and broke the frame in 8 places. Thankfully we were all in full gear and he only had a minor scratch. We parted it out and I sold my Honda 600F4i. My 1st bike. I was riding it for only 2 years.

Now the weekend has come to bring our new baby girl home and she had 12 pounds of pressure in the front tire and 20 in the rear! yikes! No wonder she was hard to turn and felt super mushy. I thought it was just me cleaning out the cobwebs.

My husband brought her to see a good friend of ours at Wheelers by Tail of the Dragon. He put on new tires, steel braided brake lines, set the compression and spring rate and dyno tuned out the flat spots in the throttle. 800 miles later..... Baby girl is no girly-girl. With 160hp at the rear wheel and a smooth powerband, a new set of Battleax 016's.... she's a very sweet ride indeed!

From a Honda 600F4i with a banana seat to a Honda 1000RR Repsol edition... I'm a glutten for punishment. Bring on the twisties!


---
---