My Baby - 2006 Honda Aero
by Brenda
(Ohio)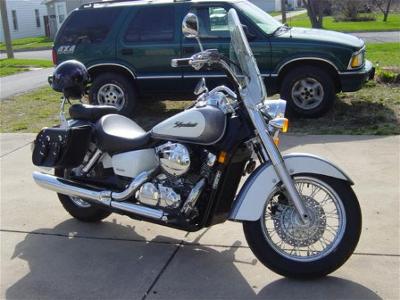 My Baby - 2006 Honda Aero
Last year (2010) I finally got my motorcycle license at age 48. I just got tired of being the passenger all the time. And like a lot of women, I started out on a Honda Rebel. At the time it seemed ok since I was just starting out. My husband has been riding for years and years and really helped me get started. He had me try out his bike and it seemed really huge. Of course, I was just starting out and opted for a smaller bike. This was almost 2 years.

Then last year, I passed the Motorcycle Ohio course and voila! And again I got on hubby's bike and it didn't seem as big. I loved it! I am now an official rider and this spring my little Rebel was put up for sale and SOLD to another beginner woman rider. And so began my journey for my Aero.

I found what I was looking for in this 2006 Honda Aero. I specifically wanted an Aero and the color scheme I have. I love the cruiser look and feel and the Aero sits low to the ground. Hence my feet touch flat when sitting on the bike.

As you can see, upon bring her home, my Baby has a new boyfriend with my hubby's Honda Ace. They are a matched pair and we all LOVE to go riding together.

Of course Ohio weather is just starting to warm up for riding season and I can't wait to be out and about this summer.
---
---