Home -> Harley Davidson Motorcycles
Harley Davidson Motorcycles
The Harley Davidson Motorcycles women love to ride!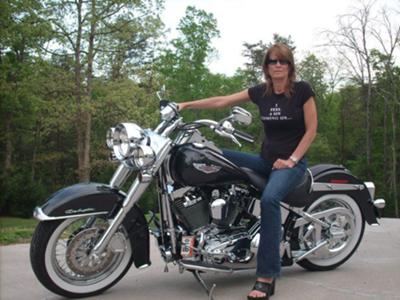 Please meet Jodi from the great state of Virginia. Jodi sent us a post back in early May 2010 and I thought her picture would make a great statement to lead this page about the Harley Davidson Motorcycles that women love to ride. We have been collecting your stories about Best Bikes since 2007 and there is no doubt that Harley Davidson is our largest collection of motorcycles that YOU love! You can read Jodi's post She is Blinding! People Stop and Stare! which I think is appropriately titled - I mean look at that bike, its gorgeous! This page that you are visiting contains all of the posts that we have received from you about your Harleys. It has truly been a privledge to read everything that you have sent into our little ( well not so little anymore! ) site. These posts are all written by Real Women who really ride and love Harleys! There is nothing here that is professionally written, just ordinary gals who love to ride hogs and share with us why they love their bikes.
Share Your Bike with the Readers of Her-Motorcycle.com
If you are a woman motorcyclist, and you are riding what you believe is one of the "best bikes" for women, send me a note and let us all know!

I'll post all submissions that are consistent with the content of "Her-Motorcycle.com" - so just keep it clean, and you'll see your story once I've had a chance to review it.

NOTE: If you have questions about the form, click on the little blue question marks for helpful tips and more information.
See What Others Have to Say About Their Bikes
Click below to see some of our users Bikes, and read all about them. Don't be shy...remember, we women motorcycle riders are the adventurous type...right?