'95 H-D Sportster 883 Deluxe
by Gypsy Spirit
(NY & LA)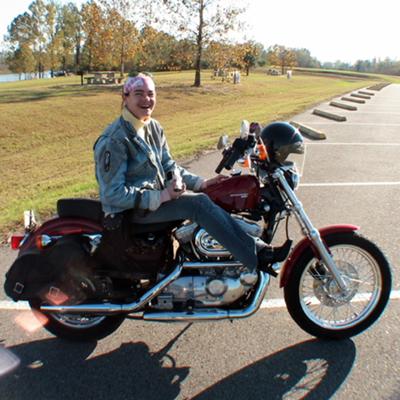 Happy 49th Birthday!
I've been riding now for over 40 years, beginning in the dirt on a Honda SL-70 when I was 12. I always leaned more toward trials riding than racing, but also loved riding the tracks (flat track and motocross) with the guys I came up with when they'd practice (on a Honda Elsinore 125). Our motto then was "If you don't go down you're not riding hard enough!" ... not finding your limits.

At 14, I helped my (then) boyfriend chop a '71 Honda CL450. I loved that bike! It looked like hell to ride, but taught me the way you sit on a bike makes more difference in comfort than all the padding in the world!

My first street bike was a new '75 Honda CB200T. It took me through the first couple of years of road riding, but really wasn't a good bike for me. The day a German Shepherd put his leg in my spokes was when I learned why to ALWAYS wear a helmet!

Next came a new '78 Honda XL350 on/off road when I lived in Colorado. I'd stand on the seat and jump (all 100 pounds of me) onto the kick start with both feet to get her going! The real drawback was that she sat so high that sometimes when I'd stop on uneven ground my feet would just find air! The plus was that the next German Shepherd went down instead of me.

Then I had kids and didn't ride alot for a few years until I picked up an '83 Honda Shadow 500. My daughter grew up on the back of that bike (she rides an '86 Honda Rebel 450). My son wiggled too much for me to hold, so he had to ride with his dad. My step son counter-leaned me in a turn once creating a new rule ... I never ride anyone heavier than me!

I now ride a '95 H-D Sportster 883 Deluxe that was gifted to me for my 49th birthday. It took a few years of switching back and forth between that and the Shadow to decide I really like the Sporty (that I call "Rosie") better. I finally sold the Shadow earlier this year.
---
---