The Dark Knight! 2003 Harley Super Glide
by colleen
(Kent, OH)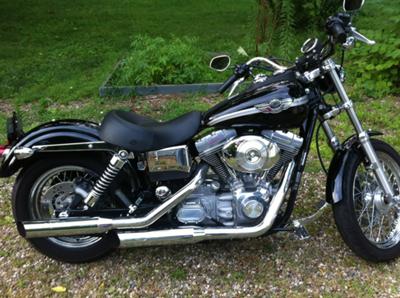 This is my 2003 Harley Davidson Dyna Super Glide FXD. I bought it with money I inherited from my grandmother, my all time biggest supporter. She wanted me to spend that on something I truly enjoyed and I knew this was the perfect thing.

After learning to ride on a 1975 Honda CB 750F and having a series of smaller, vintage bikes I was tired of the struggles that come with bikes that age. I told my husband I wanted something loud and fast! ...And something I could just start up and ride away without having to let it warm up for 20 minutes while hoping the electrical components were going to cooperate! After scouring Craigslist for the perfect bike, we happened to glance at the classifieds after dinner. The listing sounded too good to be true and when we went to look at it, the second I saw it I knew I was going to buy it. The man was the original owner and had serious health issues so he could no longer ride and needed the money for medical bills. I found it difficult to cash in my grandmother's bonds and he found it difficult to sign away the title, but we were both satisfied with our decisions!

I ride most days of the week and take the Dark Knight to school whenever I can (on a university campus, motorcycle parking is SOOO much cheaper!!)! I think about my grandma on each and every ride and know she would be proud!
---
---