2010 HD Softail Heritage Classic
by Jacki
(Northwest IL USA)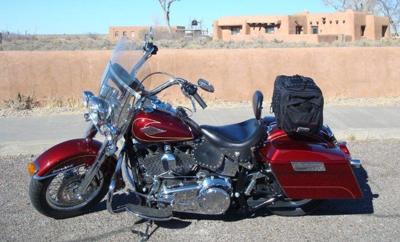 2010 HD Softail Heritage Classic
I started riding a Sportster 883 in 2008 at the age of 50. I earned my license after taking the Motorcycle Safety Class in June 2009. In July 2009, I bought a 2005 H-D Softail Heritage Classic. It which was customized to fit me but, I continued to look at other bikes.

In July 2010, I bought a 2010 H-D Softail Heritage Classic. The first difference that I fell in love with was the 6-speed transmission! It is such a sweet smooth ride. I am so happy with my bike. We have become one.

My husband and I have adapted and customized my bike to fit me and meet our riding and touring needs. When I purchased the bike, we had the dealer add Rush pipes, install the chrome front end, and remove the hubcap on the front wheel.

I am 5'3" with short legs so the front end was lowered 1" and the rear lowered 1 1/2". I had 6" curved risers for the handlebars and Rush pipes. My husband added heated handlebars and I love them and use them frequently on those chilly days. I chose a Mustang Solo seat with a backrest. I tried the H-D Reach and Signature seats on my '05 Heritage and have found the most comfortable ride for my back with the Mustang seat. I added a Captain Itch crotch cooler because the rear exhaust pipe was uncomfortably hot especially when idling on those hot summer days. Recently we replaced the black leather soft saddlebags with color matched Road King Hard bags and a Motherwell luggage rack. I was not sure how I would like them, but within a day of riding with them I found that I appreciated being able to lock my belongings in them when traveling.

I love my Heritage and I no longer have the longing to look for a different bike. My only wish is that the riding season would be longer up in Northwest Illinois!
---
---