Home -> Yamaha Motorcycles
Yamaha Motorcycles
The Yamaha Motorcycles women love to ride!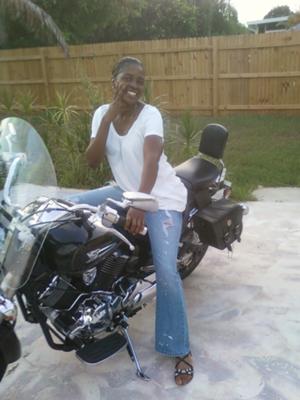 Please meet Tina from Lake Worth, Florida and her 1100 V Star Classic Yamaha. She is one of the many women who have contributed to her-motorcycle.com by telling us about her bike. I was trying to decide which picture to put on this page from the articles we have received. We have a great one from "Caramel Sundae and Karina". Which is from Trina ( aka Caramel Sundae ) in Columbus, South Carolina who wrote and told us about how she got into riding and ended up with her "Karina", Yamaha V-Star 1100. Another picture I was considering was "Scooter's Scooter". Janet ( Scooter ) sent us a great picture along with her submission about the 2005 V-Star classic ( Scooter ) she rides. Janet took up riding when she was 45 which proves there are no age barriers to learning to ride! But I picked Tina because I love her 100 watt smile! She looks like she enjoys her bike and thats what riding is all about. We have been asking YOU to tell us about your bike since 2007 and our collection of articles about Yamaha Motorcycles that women love to ride forms one of the largest collections of submissions that our visitors have made to her-motorcycle.com.
Share Your Bike with the Readers of Her-Motorcycle.com
If you are a woman motorcyclist, and you are riding what you believe is one of the "best bikes" for women, send me a note and let us all know!

I'll post all submissions that are consistent with the content of "Her-Motorcycle.com" - so just keep it clean, and you'll see your story once I've had a chance to review it.

NOTE: If you have questions about the form, click on the little blue question marks for helpful tips and more information.
See What Others Have to Say About Their Bikes
Click below to see some of our users Bikes, and read all about them. Don't be shy...remember, we women motorcycle riders are the adventurous type...right?