Home ->Triumph Motorcycles
Triumph Motorcycles
The Triumph Motorcycles women love to ride!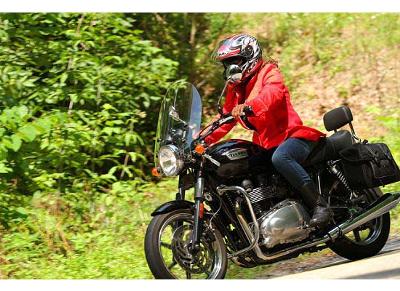 Madeline, aka Miss Rider, has been visiting us for several years and we've been very fortunate to receive several articles from her over the years. In the picture she is riding her 2009 Triumph Bonneville while she was taming the Dragon. In that article Madeline makes a reference to planning a trip from coast to coast and a few months later she returned to our site and told us that she had in fact ridden from her home in Masssachussetts to the west coast, and back again. We've enjoyed hearing about Madeline's adventures on her Triumph Bonneville as we have enjoyed hearing from all of our visitors about their favourite motorcycles. Since 2007 we have asked you to tell us about your bikes and we are featuring what you have told us about the Triumph Motorcycles that women love to ride.
Share Your Bike with the Readers of Her-Motorcycle.com
If you are a woman motorcyclist, and you are riding what you believe is one of the "best bikes" for women, send me a note and let us all know!

I'll post all submissions that are consistent with the content of "Her-Motorcycle.com" - so just keep it clean, and you'll see your story once I've had a chance to review it.

NOTE: If you have questions about the form, click on the little blue question marks for helpful tips and more information.
See What Others Have to Say About Their Bikes
Click below to see some of our users Bikes, and read all about them. Don't be shy...remember, we women motorcycle riders are the adventurous type...right?

2014 Triumph America LT
I thought I did everything right reaching for the quintessential American dream. I married in my mid-twenties, we saved, learned, bought a big beautiful …
2002 Trumph america bonneville
My hubby just purchased this motorcycle for an early b-day present for me...i was shocked been after him for 10 years now to get something,now w/ that …
Triumph Motorcycle
I love my bike! I ride it more then i drive my truck. My bike rides very nice. Triumph makes Good Bikes!! THANK YOU!! Alissa