2000 Triumph Thunderbird 900cc
by Alissa Higgins
(Krebs, OK)
I love my bike! I ride it more then i drive my truck. My bike rides very nice. Triumph makes Good Bikes!!

THANK YOU!! Alissa
Triumph Boneville T100 2008
by Raudete
(Dallas, TX)
perfect hight, fast(900cc) and classic
Join in and write your own page! It's easy to do. How? Simply click here to return to Triumph Motorcycles.
Triumph Street Triple R 2013
by Sara
(Denver, CO)
I just got my Matte Graphite Grey StripleR a few weeks ago, and it is my second bike - My first is a 2009 BMW G 650 GS. This bike is a world apart from that one, and I got it primarily to more fully experience the thrill of the twisties and eventually the track!! Loving the bike thus far!!
Lynn's 2007 Triumph Bonneville
by Lynn DuPonte
(Port Charlotte, FL USA)
Growing up in the Mojave Desert of Southern California, I rode dirt bikes and raced moto cross for years in my youth. I retired from riding to be a Mom and pit crew for my former husband. Once I turned 50 and became a grandmother, I knew I wanted to ride again. I decided to take the MSF safety course last summer and the rest is history.

The bug bit me very hard and I was reborn with my riding. I felt alive and full of life. I bought the Triumph Bonneville for emotional and practical reasons. I grew up with BSAs and Triumphs in my Dad's garage. Although the Bonneville is a little tall for me, I love the standard pegs and the fact it is relatively light to handle.

After participating in the "No Boys Allowed" ride with HD in May, I met 3 other women of similar age and we started our riding group called "Girls Just Wanna Have Fun". We ride together once or twice a month and sometimes we even let the husbands tag along.
My Last Motorcycle - Triumph Rocket III Classic
by Manuela
(Tacoma, Washington, USA)
Two weeks ago my husband and I bought my third bike. I got my first bike two years ago when my husband purchased for me a 1999 Suzuki GSX-R600, 600cc's worth of high speed, stick to the road like glue, adrenalin inducing yellow beauty I named Bumblebee. About fifteen months ago I purchased a Red and Black Suzuki Marauder VZ800, 800cc's of relaxed cruising, I named her Ladybug. While I love both of my bikes neither one can I ride for more than a few hours at a time. My husband rides a 2000 Triumph Tiger and will go for rides that can last for several days and thousands of miles. I needed a comfortable bike so that I can accompany him on these rides. We went down to the local Triumph dealership to check out their cruisers to see if one felt right to me. My husband directed me to Triumphs American a 900cc twin that he had heard good things about. Not paying a lot of attention to the names I sat on a bike and fell in love, it was huge, comfortable and beautiful but it wasn't a 900cc American. When I called out to my husband that I had found the bike of my dreams and my husband turned to see what I was so excited about, I thought he was going to have a coronary on the spot. It was only then that I realized that the bike I was in lust for was not a American but was the flagship of the Triumph line a 2300cc Rocket III Classic. With two grand of my own hard earned cash and a loan to be paid off by my husband I bought my third and very possibly the last bike I will ever own. I named her Dung Beetle. No one understands my naming convention and that's ok, each of my bikes reminds me of beautiful bugs. The Dung Beetle is an extremely powerful bug that can move many times its own weight and is known throughout the world as a beautiful bug under one of its other names, the African Scarab.

It's funny I get two reactions from men when riding my Dung Beetle, the younger men think it's really cool that I ride a big bike and the older ones grouse that it's too big a bike for a"?girl". The Triumph Rocket III is a very special motorcycle, riding her is effortless and the closest thing to heaven I can imagine.
I Ride a 2005 Triumph Bonneville T100
by Davine
(Denver, CO)
My baby is a tangerine orange and opal white Bonnie T100 and I love how responsive she is. I don't even have to put effort into a turn I just think about it and it is like she reads my mind.
2012 Triumph Daytona 675R
by Lisa
(New Mexico)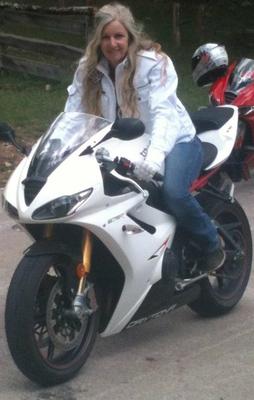 After wanting a bike for many years, I finally could afford one with my new job. So after searching and changing my mind many times...what we are good at, right? ha ha, I finally decided on not my first choice (KTM 1190 RC8 R)but a little more practical bike, The Triumph Daytona 675R. Ok, so it's not the most comfortable bike, but handling, speed, and total cool factor is way up there!! I love it! And the great thing is no one else in town has one like mine. So at 48 I finally got my bike I always wanted, better late than never, right?
2009 Triumph Bonneville
by Madeline Velazquez
(Worcester, Masssachussetts, USA)
I have two bikes. I have a 2000 Ducati Monster 750, which I have owned since 2000 and put over 20,000 miles on it. For the age of the bike, I feel I should have more miles, but that is what happens on a bike that is not so comfortable for long distance riding. Then, I have my 2009 Triumph Bonneville that I bought specifically for long distance riding. I am 5'3" and most touring bikes are too high for me to reach the ground. Last year in 2010, I wanted to take a long 3000 mile journey with a group of friends and did not want to take the Ducati. Went shopping and saw the Bonnie. Bonnie is the name given to a Triumph Bonneville. It was a used bike with 1700 miles but it had everything I needed for the long ride, especially a very comfortable Triumph seat, not the standard stock seat which is very hard. It has crash bars, windshield and heated grips.

Took my Bonnie on the 3000 mile trek and many, many other long rides. Put 8000 miles in 3 months. As a result, I am now planning a coast to coast ride, see my website, missrider.com.

My motorcycle is not the most sexy and beautiful bike in the world, but let me tell you, it fits my short body, it is light and when I tell her to go from 20mph to 70mph onto a busy highway from the ramp, that girl moves and is usually the first one in the pack. I ride with men and always the only female, the guys like to ride very fast because they have large stronger bikes. They make fun of me because I have the smallest bike in the group, but I am the one they respect the most because my Bonnie demands and earns that respect.

I think the new Triumph Bonneville is a perfect match for a female. She is suited for long and short riding experiences. I love how easy it is to ride my motorcycle. My Ducati Monster is also an excellent choice of bikes for a female, but it is also a very demanding bike. I compare the two bikes like this, the Bonnie rides me, I ride the Ducati Monster since it handles a little more complicated than the Bonnie.


2011 Triumph Street Triple
I road my husband's "dirt bike" for a season - a Kawasaki Super Sherpa but wanted something lower and more comfortable if I needed to go on the highway. After much research - considered ER6N, BMW 650 GS and Triumph Street Triple. Test drove both Beemer and Triumph and it was a tight decision but I just love the Triumph a little bit more. Have been riding it for a full season now with no regrets.
Join in and write your own page! It's easy to do. How? Simply click here to return to Triumph Motorcycles.
---
---