Home -> Three Wheel Motorcycle
Three Wheel Motorcycle
The Three Wheel Motorcycle that women love to ride!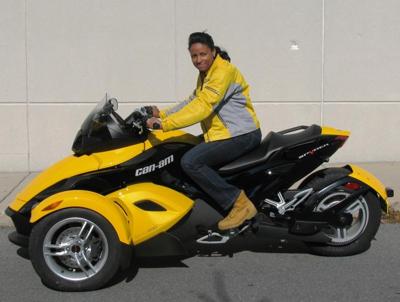 Women enjoy riding a three wheel motorcycle! Whether it be a trike or the Can Am Spyder, pictured above, we have seen a few articles come our way from women who prefer the three option for riding. We have been asking women riders to share their bikes with us since 2007 and we've collected a small, but growing, collection of articles about three wheel motorcycles. One article is from Sam in Canada who loves to ride and wanted to keep riding after losing both legs in a motorcycle accident. We've also started to hear more and more about the Can Am Spyder such as the one that Rosemary is riding in the picture. We enjoy hearing about trikes, three wheel motorcycles and the Can Am Spyder. We don't know that much about them, especially the Can Am Spyder, and would love to hear about your experiances and why you love to ride three wheel motorcycles. Please share with us as we would love to have your stories and opinions on our site and I hope you enjoy the articles our visitors have sent in to us.
Share Your Bike with the Readers of Her-Motorcycle.com
If you are a woman motorcyclist, and you are riding what you believe is one of the "best bikes" for women, send me a note and let us all know!

I'll post all submissions that are consistent with the content of "Her-Motorcycle.com" - so just keep it clean, and you'll see your story once I've had a chance to review it.

NOTE: If you have questions about the form, click on the little blue question marks for helpful tips and more information.
See What Others Have to Say About Their Bikes
Click below to see some of our users Bikes, and read all about them. Don't be shy...remember, we women motorcycle riders are the adventurous type...right?