Miss Pinky Leigh, On the Road Again
by Linda
(Sylacauga, AL)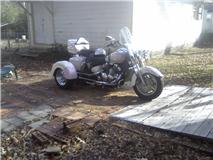 After1
I purchased a plain jane 98 1300 Yamaha Royal Star, it has old droopy leather bags, a windsheild that looked as if someone used a brillo pad on it, bald tires, old plain run of the mill seats. The bike looked ok but it was just not me.

So we got it home and started thinking about what to do next.

I put it in the shop and had new tires, windshield, added some chrome, added hard saddlebags and trunk. Gave it a brake job and new tune up.

Then off to another shop to add the voyager kit and a paint job, I decided to go with pearl white with pearl pink ghost flames.

I decided to name her "Miss Pinky Leigh".
---
---