Home -> BMW Motorcycles
BMW Motorcycles

The BMW Motorcycles women love to ride!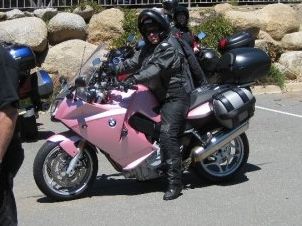 This is Wendy from Sydney, Australia. She is riding a pink 2007 BMW F800ST motorcycle and she very kindly told us that this is the motorcycle that she love to ride. Her-Motorcycle.com has been collecting stories from women riders and the bikes they love to ride since 2007. We have recieved hundreds of replies over the years and this is what we have collected about BMW motorcycles. Our articles are written by real women riders who love BMW motorcycles. Their opinions are honest and from the heart and are based soley upon their personal experiances with riding these motorcycles. Please enjoy the articles sent in by our readers.
Share Your BMW with the Readers of Her-Motorcycle.com
If you are a woman motorcyclist who is riding a BMW - send me a short note about your bike and let us all know why you chose your bike.

I'll post all submissions that are consistent with the content of "Her-Motorcycle.com" - so just keep it clean, and you'll see your story once I've had a chance to review it.

NOTE: If you have questions about the form, click on the little blue question marks for helpful tips and more information.
The BMW motorcycles our visitors love to ride
Click below to see some of our users Bikes, and read all about them. Don't be shy...remember, we women motorcycle riders are the adventurous type...right?