Height
by Nicole
(dickinson)
Im only 5'0 and want a crotch rocket. But im afraid im too short
When motorcyce is running
I have a 1994 Honda Shawdo. When at a iddle it makes a clicking sound and when you pull the clutch in it quites making the clicking sound. Has anyone had this problem that could help me reslove it. Thank you Jack Burkett
new rider, falling in slow turns, losing confidence
Hey there!

New rider, new to the forum, thanks for being here!

So here's what's happened to me. I took the MSF course and passed, then took it again for extra practice. Of course you practice on 250s as you know. We have an '06 BMW F650GS single at home, so I got on that after class 2 and did what we did in class in an empty parking lot - friction zone, power walk, etc for a few hours. Took it for a VERY short spin in the neighborhood and had no problems. Then I started getting "up in my head" and really freaked out about taking turns without stopping first, not sure why - maybe the weight of the bike, leaning, who knows. So I finally went to take a turn, and dropped the bike. Not sure what happened; I think I panicked at the lean and grabbed the front brake (and probably looked down too). I got back on the next day, a little jumpy, and then dropped it at a stupid stop sign - not even sure why that happened. So now I WANT to get back on but my nerves are getting to me. I think I know what to do in turns but don't wnat to practice dropping the bike anymore :) I guess what I'm hoping for is maybe some words of wisdom about where I should re-start now: Back in the parking lot? Any pecific exercises? Smaller bike? Getting my 650 lowered?

Any and all advice and support is welcome.
Thank you!!!
backfire once vance and hines pipes are installed
by carl
(virginia)
I have a 03 heritage softail classic. What carb. work will need to be done to accommodate the installation of a pair of VANCE and HINES exhaust pipes? The bike backfires through the carb.if you do not twist the throttle aggressively and sometimes at take-off.??
First bike
by Elaine
(Florida)
hi,
my name is Elaine, I have been my husbands passenger for the past 10 years and have recently decided i need my own bike. I have been looking at a 1100 1998 Honda Shadow. My Husband is a bit concerned about me learning to ride a bike with forward controls. I am 5'5 and about 140 pounds. i have never riden before and will just be learning. Is it a good idea to learn on an 1100 with forward control or should i go for a smaller bike?
broken bolt head
by Hugh
(Trenton Texas)
I broke the head off of the screw that secures the back of the seat to my 1100 honda sabre. How do I get the part of the screw that is imbedded? Do I use a screw extractor? Can I use a small metal drill bit to drill down into the broken part to extract it?
Height
by Elise
(Wax., Tx)
I'm 23 years old and I'm 4'11''. When I wear my square toe boots I'm a tad bit taller. My only concern is will I be able to ride a motorcycle?
A Tale of Two Hondas
by Gypsy Spirit
(Ulster, NY)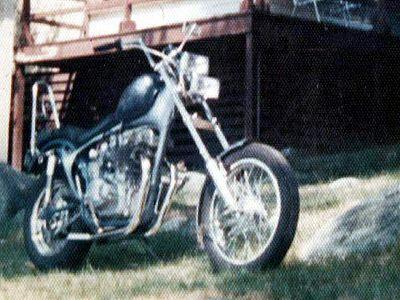 '71 Honda CL450 Chopper
I see a lot of questions/comments on here about how to "fit" a bike ... most deal with height and the ability to have solid footing; some deal with reach to the bars or the controls. This is fine for newbies just starting out, or what I call "off the shelf" riders. (For an analogy ... you just found the wedding gown that you love ... it fits well, but not quite perfect).

What I don't see addressed, is what kind of riding do you plan to do? Will you be riding mostly highway/interstates ... back roads/mountain twisties ... open range/dirt roads ... putt-putting around town? These things affect not only the style (touring, cruiser, sport, or what they call dual-sport these days)of bike you choose, but how you set it up ... bars, suspension, controls, exhaust and so on. (This is like having that wedding gown tailored ... a tuck here, an adjustment there ...!).

I came up with a racing crowd in all its many variations. My brother had two Honda CR125s ... one set up for motocross and one set up for flat tracking. Out of the crate the two bikes were identical ... then came the tailoring ... in the end the only thing the "same" was that they were both CR125s. They each had different handle bars, suspensions, fork lengths, tires, even brake set-ups! Same bike, same rider, different applications.

When I was in high school, I helped my boyfriend build a chopper out of a Honda CL450 ... 10 degree rake ... 12 over fork tubes ... BEAUTIFUL BIKE! ... and comfortable for long highway rides ... but it was hell to handle on the twisty mountain roads!

I would love to see more detail in the posts, especially the ones with technical questions! ... Year, make & model of the bike; riding style & terrain; personal physical considerations; and so on. There are so many variables that alot of questions are difficult to address without this pertinent information. There is no "one right answer" for everyone.

Love this site! It's one of the few I read regularly. Hope my two cents worth helps a bit!

Ride safe, ride free!
---
---