Home -> Motorcycle Pants
Motorcycle Pants for Women
CYA and So Much More!

Motorcycle Pants

Why do you need special pants if you are a woman motorcyclist? Well, protection for one. You need to know that if you and the motorcycle part ways, your legs and butt will be protected.

But, it's more than just protection. Just like a motorcyclejacket, pants designed for a woman motorcyclist have to meetcertain criteria.

Keeping in mind all of the reasons that you need them, most importantly, motorcycle pants must be comfortable - as comfy as a pair of well-worn jeans. If you're going to be wearing them, for the reasons you need to wear them, you need to be comfortable wearing them. Make sure that the inseam length isadequate with your knees bent in the riding position.

Make sure that there are no seams in the crotch area, where you're going to be sitting, and sitting and sitting.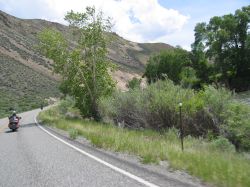 Ensure that the pants are easy to get on and off, and have zippers for ventilation. And, if the pants have armor, make sure that the pads fit over the areas that they are intended to pad. If there are knee pads, make sure that they actually pad your knees, as opposed to your thigh. The waistband should have some elasticity, so you can move, even after lunch. You probably are going to want some pockets, in places that you can actually reach, both on and off the bike.

The pants shouldn't be so heavy that you have problems lifting your leg over the seat. Let's face it, unless you're twenty, you are going to have some "stiffness" issues when you get off the motorcycle after a long stretch of road. You need your pants to work with you, not against you.

So many issues need to be addressed, and so few choices.

Screaming Hot Pink Motorcycle in England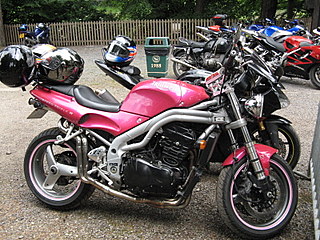 These are my major criteria when choosing motorcycle pants - in order of no particular significance...
Ideal Riding Pants Should:


Provide Protection
Ideally, Be Waterproof
Allow You to MOVE
Provide Ventilation
Have Zippers and Compartments
Fit Well
Be Stylish
Look Like Pants, and Not Like Leg Balloons
Have a Long Enough Inseam for Extreme Positions
Be Warm in Cold Weather, and Cool in Hot Weather
Allow You to Get Them On and Off Wuickly
Most importantly, the pants need to be comfortable enough to allow you to remain seated on the bike for long distances. The last thing you want is to be distracted by pants that are bunching, pulling or otherwise annoying you.
I've got some favorite motorcycle pants for women.