Motorcycle Crashes
What You Need to Know to Survive an Accident


The web is filled with links to videos of Motorcycle Crashes - many more graphic that I care to view. Unfortunately, accidents can and do happen. There are things that you can do to avoid a motorcycle accident, and there are measures that you need to be aware of in the event of an accident. If you adhere to basic safety tips, wear appropriate apparel, and are constantly aware of what surrounds you, you can certainly reduce the probability of something happening. However, it is also a good idea to be aware of what you can do to minimize the possibility of injury, should you and your bike be parted.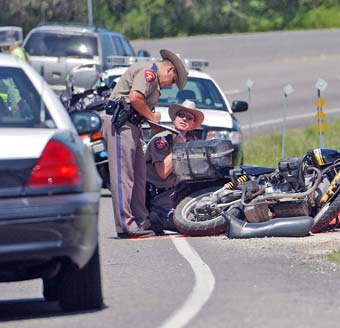 Know When You've Lost Control
If you have been riding for a while, I'm sure that you can remember times when you had a "close call", an experience when you knew that you almost lost control of your motorcycle. You can remember that feeling of adrenaline cursing through your body as you grabbed a hold of the situation and safely maneuvered you and your bike out of danger.
But, there are also times when the best option is to know that you've encountered a situation where the bike is going down. You're past the point of being able to regain control, and now you need to take steps to avoid injury as a result of a motorcycle crash.
Try to avoid "going down" along with the bike.


If you feel the bike going over, "throw" your body in the opposite direction. You want to avoid being trapped in anyway by the weight of the motorcycle.


Put your body into a "fetal position", rolling away from the motorcycle - "duck and roll" is a good way to remember this.
Fortunately, my experiences with a bike going down are isolated to embarrassing, parking lot experiences. The bike goes one way, and I have the ability to go the other. On the other hand, my husband had an accident, where he and the bike parted company on a curve that he took at too fast a speed. He said afterwards that he knew that once the bike was out of control, he had to get away from the motorcycle. Quite literally, he ducked and rolled", and was left with only minor bruises and some road rash to his jacket and helmet. His experience proved to me the need for the proper jacket and most importantly, a helmet.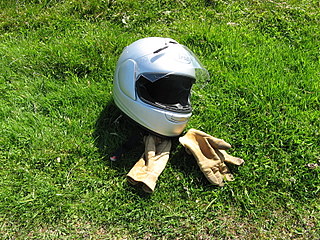 After an Accident
Once you've gotten over the shock of having gone down, take a minute and check for any obvious injuries. Obviously, you need to take steps to avoid any oncoming traffic - don't worry about the motorcycle, just get your body out of the road.

If you are able, get to the motorcycle and turn it off.

If you are riding in a group, wait for someone to come help you move the motorcycle to a safe location.

If another vehicle was involved in the accident, you'll need to do the usual things you would do - exchange information, get insurance information. Contact the police. Fill out an accident report.

While it is helpful to be aware of hidden dangers, and how to avoid an accident - by riding safely, and knowing when you've encountered a loss of control, you can minimize injuries to yourself, and to your motorcycle. If you have a motorcycle crash, learn from the experience, get back on the bike and RIDE SAFE!

If you or a loved one had been involved in a motorcycle accident, you can visit Bikers's Haven: Providing a sacred, safe place for crash survivors, and loved ones of crash victims to share and heal.

Free Accident Motorcycle Guides