Motorcycle Accident Prevention
Be Aware of Hidden Dangers

Riding a motorcycle can be exhilarating.

Knowing about Motorcycle Accident Prevention can be lifesaving.

If only each bike ride could be on a traffic-free, smoothly paved, pot hole free roadway, and each travel day could be sunny, moderately warm and completely rain and wind-free. Life on the back of a motorcycle would be utopia.

No distracting four-wheeled vehicles to watch out for.


No roadway defects to maneuver around.


No weather conditions to endure.


No mechanical difficulties.


No strange objects or animals in the middle of the road.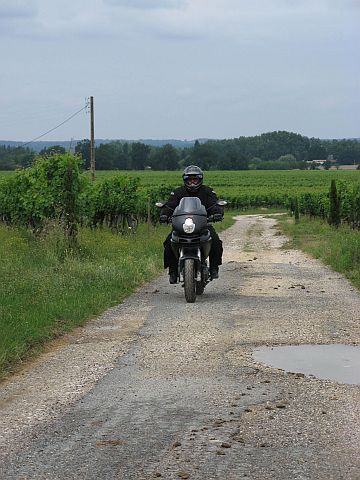 While I have experienced moments of perfection on the back of my motorcycle, I've also experienced some not-so-perfect moments. Road Dangers and obstacles can prove to be definite problems for any two-wheeled vehicle. I believe that it is better to know about these potential "issues" in advance, than to learn by encountering them.
Here's My List of Hidden Dangers
The road really is more slippery in the first few minutes after it begins to rain. Especially on heavily traveled roads,and on hot days, the water mixing with the oils on the road makes for a very slippery surface.
Puddles of water can hide very deep potholes in the road. Beware of country roads, and gravel roads - what looks like a small puddle of water may actually be a crater, filled with water.
Blind curves should be ridden with caution. Even on the most perfect road, on the most perfect day, there may be a vehicle, animal or major road defect right around the corner. You just can't see it.
Not all roadways are perfectly flat. Some roads are actually engineered that way- the middle of the road is higher than the sides. Especially in Europe.
Flat tires happen. Know the warning signs, and know how to fix one.
Not all vehicle drivers know how to use their turn signals and not all vehicle drivers are aware of motorcycles in traffic.
Grass clippings, loose gravel, sand and wet leaves on the road are slippery.
Livestock and small farm animals are not always behind fences.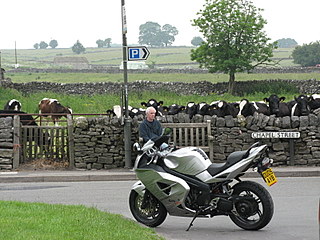 Keep your eyes open, be aware of your environment, and be prepared for anything - that's motorcycle accident prevention.

Ride Safe!