Home -> Guest Articles-> Riding A Passenger
Riding a Passenger On Your Motorcycle
Riding a Passenger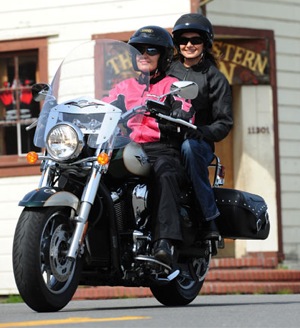 It's sometimes difficult for women to get off the back of the bike and onto the front. Driving your own bike can be nerve wracking for some women, and it can take some time to master. Many women do master it quickly and many women want to take on passengers of their own. Here are some tips I've discovered for taking on a passenger while you ride.
Check the Weight
Be sure you understand your bike and its limitations. If you are taking on a passenger who weights 100 pounds, you will need to adjust how you handle the bike, but you'll also need to adjust the tire pressure and the suspension. It'll be different again if you take on a 150 pound passenger. Be sure you take the time to plan ahead and make the changes.
Breaking Speed
Many people forget that adding weight to a bike will affect the braking speed. The more weight you have on the bike, the longer it will take you to break. Be extra careful at the beginning of the ride and be aware of the adjustments you will need to make. Be sure to be cautious toward the start while you are trying to determine the correct braking speed.
Prep the Passenger
Get your passenger on board for a safe ride. Talk to her about the clothes she is going to wear. She should take the same precautions you do in terms of riding gear. She'll want to wear brightly colored clothing, and some sort of protective jacket. A helmet, it goes without saying, is a must - no matter what your state law is!
Passengers should always get on the bike from the same side, and they should tell you before they mount. You should never, ever carry someone sidesaddle. Be sure to orient your passenger to the bike, showing her where the hot pipes are and the muffler. Be sure she's wearing the proper footgear.
Leaning and Holding
You're going to have to do a little teaching for your passenger to have a successful ride. Instruct your passenger to hold you around the waist or to hold onto the bike's hold on's. Tell her to only learn when you lean! She should shift her weight forward a bit when you accelerate and back a bit when you brake. She should take your body position as your guide and not shift around too much. She needs to be looking over your shoulder when you turn so that she is following the turn with her weight.
No Back of the Bike Driving
There is nothing worse than a passenger who can't keep her thoughts to herself. If you find that you have a passenger who is constantly telling you what to do or what to look out for, you know you have a problem. You need a passenger who has confidence in your driving.
Be sure to talk to your passenger before you agree to take her for a ride. A ride home from work is one thing, but several hours on a bike is another. An uneducated passenger can be a dangerous passenger. It is your responsibility to teach your passenger how to handle herself on the bike.
Choose a passenger who is going to add to your trip, not frustrate and annoy you. There is nothing worse than gearing up for a trip, doing all the planning and the prep work, and getting on a bike with someone who gets on your nerves within the first few minutes! Riding with a passenger can be fun if you choose the right partner and do some prep work.