Oppsie Dropsie...Mods, Upgrades and Courses
by Kim
(Canada)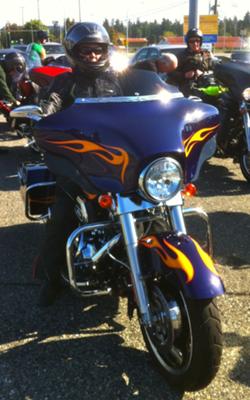 Hi Ladies.

I am not often on this site anymore...and I used to, back in 2010, sit on pins and needles waiting for words of encouragments, anything to help get me motivated, lesson my anxiety and get me riding...just like the ladies I saw on the road. I needed inspiration.

Nothing was a magic cure. Everything took coaching from people, courses, and baby steps forward.

I took many courses, Beginners, Advanced and Advanced II training with cops. I took it all. And in the process, I rode and I rode and I rode. I would take rides, solo rides, to a destination for coffee...and I would be so anxious and nervous, but I did it.

I worked up from a sexy little black 250 yamaha virago, to a 650 V Star. I outgrew both those bikes within 6 months and began a very steep learning curve in late 2010, when I spotted, and fell in love, and bought a HD Softail Custom...

that bike, with raked out forks and 21" front tire, was a challenge. I had to change the bars and have it lowered and took courses with the Cops whom offered Advanced Training, in order to get comfortable.

I dropped it several times, in low speed maneurvers, in the course, backing it up out of my garage...whatever. I just put engine guards on it...and rolled on.

I then, bought a tri glide trike, so that I could take my daughter out, and hence, more modifications, beginning with handlebars and such.

in 2012, I had a great handle on the softail custom. However, I attended a Test Our Metal harley day, and traded everything I had for a Street Glide - such was the ride for me.

I thought I was going to cruise happily. Was unexpected that I would get such pain between my shoulder blades, and lower back, and than I would drop the bike in a parking - day 3 of ownership after a long day of riding. I was in misery.

And, so, the feeling was much like a new beginner. I didn't want to ride, felt incapable, felt overwhelmed.

I then talked to some ladies whom ride such bikes, and I stepped to it, got brave, changed the handlebars, mirrors, modifications to the seat to get me lower and closer to the tank, and put saddlebag guards, for the next inevitable drop.

Everytime I came to a stop, I got anxious, and grabbed the handlebars tight, and the tank swayed, left, right, before I just managed to steady it..before it fell over.

When you think it will...it will.

After only having the bike for a few days after it received its modifications, I took it, because I said I would, on a 5 day trip into the US. I had to take ferries, I had to wait in long line ups at Customs, where I had to figure out how I was to slow maneuver it inches at a time forward until I could get through the 2 hour line up at Customs. I felt like a beginner all over again, not the 40,000 + km I had under my belt since 2010.

Finally, exhausted and nothing to do but ride and get it done, I began to calm my over stimulated mind into relaxation.

On the way back from Washington, we went over White Pass, and ran into such rain storms, snow, fog, Fast and Furious HWY traffic on the I-5 through terential downpours, I was so anxious but there was nothing to do but roll on, that I just tired myself out, and got "easy" with the new ride.

I am about 5,000 km into my new Street Glide since May, and I have to say, I am so amazed at myself. I am very pleased.

Yup...I worried and still do, about parking the hunk of metal, to do it fluently like I did on my Softail, like everybody else seems to do...but you know, I pat myself on the back, and say that lesson will come over and over again, until it is as easy as walking....

If I really am stressed, if there is a group watching, I may even step off the bike, and with a fluid and graceful motion, ask for "valet parking"...

We have to be brave and throw our hearts over the fence, then go get it.

Nothing worth having comes easy.....

How proud, the day, we rise and meet our challenge.

A note to pass on, which was shared with me, when considering modifications to a bike.

1. Safety First
2. Comfort
3. Bling

Warm regards....and hugs to all.