Home -> Guest Articles-> My Mom Rides A Motorcycle
My Mom Rides a Motorcycle
My Mom Rides a Motorcycle:
The Curious Tale of Miss Taylor vs. the Prissy Teacher
My friend has a motorcycle; she has had it for about three years now. When her kids were smaller, they would ask for rides, but she wouldn't let them on with her until they were a little older. Taylor, a happy, well-adjusted first grader is now getting to ride the bike to school two days of the week during the nice days. He loves riding the bike and he loves his mommy, so imagine her surprise when those two very things put her face to face with the first grade teacher's bad side.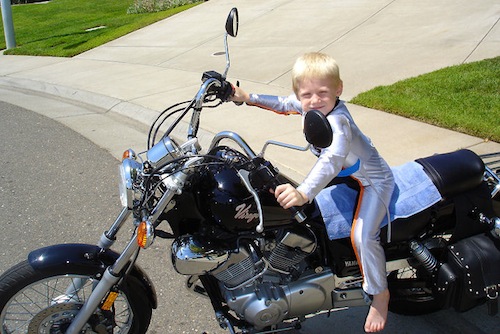 It started with an assignment. Tay was asked to draw a picture or write a story about his family's daily schedule. He drew his dad heading to his classes at the local community college in the family mini-van. He drew a picture of his mommy heading to work on her motorcycle. He drew another picture of himself, on the back of the bike broadly smiling and waving at her weeping, dress wearing brother. (That was not nice, Taylor.) The teacher drew a big, red frowning face on the top of the picture and circled all of the things that she thought was incorrect. Taylor cried and brought the picture home to his mother for review. His mom, being a much more reasonable person than I am, wrote a polite note asking for an explanation of the "grade" and what she thought was so wrong with this lovely picture. (Besides the fact that poor Tanner had on a dress and what looked like horns on top of his head.)

The teacher, a woman described by my rather reasonable pal as "the prissiest thing on bony legs", wrote a note back saying that she thought that Taylor had "mistakenly" reversed the person in the place and cars section. Didn"t she mean that Daddy rode the motorcycle to work while Mommy took the family minivan to her "little" community college classes? Didn't she mean that Daddy took him on motorcycle rides while his brother waited his turn? (No comments were offered for the dress or the horns.)

My friend, who may be something close to a saint at this point, asked Taylor what they should do. Taylor said that he would handle it, if his mommy gave him a ride to school that morning and walked into the class with him. My friend agreed. This is what Taylor had to say to the prissy teacher:

"My mom rides a motorcycle. She sold the clunker car that always broke down on her and bought this bike. She goes to work because Dad lost his job. He is going to school so that he can get a better job than the one that he had and he drives the minivan. I don't think you should have given me the frowny face on my paper, just because you don't know something (sic). You should have asked and I would have told you. See, sometimes teachers don't know everything either."

I love that child and I can't wait until this teacher assigns him the task of drawing what he thinks of her.