Home -> Guest Articles-> Knowledge Is Power
Knowledge is Power
Knowledge is Power

One of the key reasons women sit on the back of the bike instead of the front is lack of knowledge. This is not true for all women, but it is true for many, and it was true for me. The first step toward moving yourself to the front of the bike is to learn more about what you're doing.

Find a Mentor
Women tend to operate better in groups. Having a friend or mentor to help you get involved in a new situation can make all the difference in the world. This holds true in motorcycle riding. There are many women out there who ride motorcycles and many women who know a lot about the bikes and about riding. These are the women you need to seek out and latch onto.

I didn't know any women bikers in my area, so I went to my local bike store and asked about women's riding groups. I called up the leader of one and asked for her help. She told me what I needed to get started, and even better, she volunteered to help me get going. She talked me through buying my gear, learning about bikes, and about where I could ride and who I could ride with. Lots of men can help you with this as well. But there is just something about learning from a woman that makes the experience a bonding experience. Finding a motorcycle mentor will help you learn about bikes and riding, and it will help you find riding companions.

Find a Class
Taking a class on motorcycle safety will help you in many ways as a motorcycle rider. Through a course offered by an organization such as the Motorcycle Safety Foundation (MSF), you will learn how to get trained and licensed as a motorcycle rider, learn what gear is necessary for safe riding, and learn what your own skill limitations are when you're riding a motorcycle.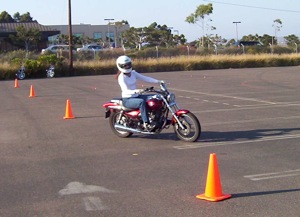 You can expect that these classes will last one or two weekends. When you call to sign up for the class, ask if there is a class specifically for women. You might have to wait a weekend or two until a program just for women starts, but you should be able to find one.

Each state should offer a motorcycle safety program. In your state, you can participate in one once you get your motorcycle permit. In most states, you'll need to take a written test to get your motorcycle learner's permit. You can usually find all the information you'll need to pass the test on the state's Department of Motor Vehicles website. After I took my safety class, I felt confident enough to tackle my driving test. I was nervous, but I was confident I knew my stuff!

Ask Questions
Just as it is important to understand the rules of the road and motorcycle safety, it is important to understand and know about your motorcycle. I was totally intimidated by motorcycles because I don't understand engines or I didn't feel I understood them well enough to diagnose a problem or to keep up with the maintenance. I was scared to death to take it all on. This is where my mentor was a big help. I told her I was scared and she talked me through it, step by step. I took a deep breath when I went to the bike store and just asked a bunch of questions. I really tried to focus on learning what I needed to know and not worry about what people thought about what I didn't know! I learned hot to change the oil on my bike. I learned how to winterize it. Now, just because I know how to do these things doesn't mean I'm going to do it all the time! I'll still pay someone to do my oil changes. But at least I know that I know what I'm doing and if I had to, I could do it. And I feel more confident now that if something goes wrong, I'll be able to have some idea of what it is.

Learning all you can about your bike and about motorcycle riding, will help you feel more confident as a motorcycle rider. It certainly helped me. It gave me the confidence to get off the back of the bike and into the driver's seat.