Home -> Guest Articles-> Invasion Of The Brits
Invasion of the Brits
INVASION OF THE BRITS: A NorthStar Moto Tours Adventure
Tyler Risk-Storyteller and Tour Operator/Owner
Photos courtesy of Tyler Risk and Dorothy Lenehan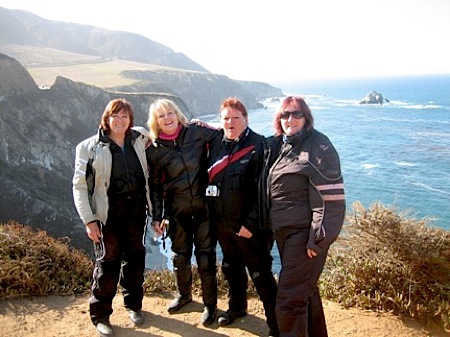 Two years ago, I was leading a tour for my women's riding group, Dangerous Curves, to Lake Tahoe and one of the women asked me why I wasn't doing this as a business venture. The idea kind of took me aback however, I thought, why not? The end result birthed NorthStar Moto Tours. This is the story about our last tour of 2008 and the wonderful experiences and camaraderie gained through motor touring.
In August 2008, I received a rather distressed email from Carol, a lady rider from the UK. It seems she had booked a tour with another company a year in advance and now, only a month before the tour was scheduled, the company was canceling the tour. Sally wondered if perhaps we had any room in NorthStar's October tour along the South Coast for her and her best friend, Sally.
As it turned out, we had more than enough room to accommodate them and thus began the flurry of emails back and forth to get them squared away for the tour. Dubbleju Motorcycle Rentals in San Francisco came to the rescue with two bikes for them to hire for their journey, the industrious Carol reserved hotels, planned their arrival/departures, put together routes for beyond the tour with a few suggestions from me, and they were set!
Unbeknownst to me at the time, this tour had a very special meaning for these two ladies. Sally's partner of 20 years, Steve, had been killed in a motorcycle accident two years prior. The trip out to California was to have been a couples' tour with Sally, Steve, Carol and her husband, Dave, to celebrate Carol's 50th birthday. Sally was still up to doing the trip with the both of them when Carol, after discussions with Dave, decided they would make it a girls' only trip. And so they journeyed across the pond to join us.
I met them for our introductory dinner Thursday evening, along with our tour sweep, Dorothy. I wondered if there was any chance we wouldn't hit it off but then remembered the funny thing about most riders is that there is an automatic common bond right off the bat and friendships develop quickly and easily. These two ladies were no different. We were laughing and joking pretty much right off the bat as if we had known each other for years. The funniest part was learning some of the different words used in the UK and vice versa... what did you say?? What does that mean?? I didn't realize that leading a motorcycle tour would be so educationally diverse!
The next morning dawned sunny and cool with brilliant blue skies. We stored their bags in the chase vehicle, a Suburban complete with hauler driven by my business partner, Ben, and then headed off for the Santa Cruz Mountains, winding our way up Hwy 9, along Skyline Blvd, and stopping at the famed Alice's Restaurant in La Honda for brunch. Sometimes, when we frequently ride the same roads, we tend to get jaded and forget how lucky we are. Seeing Carol's and Sally's reaction as we traversed the local roads brought back the newness and the wonder of the roads, the trees, the sun, and experiencing life on two-wheels.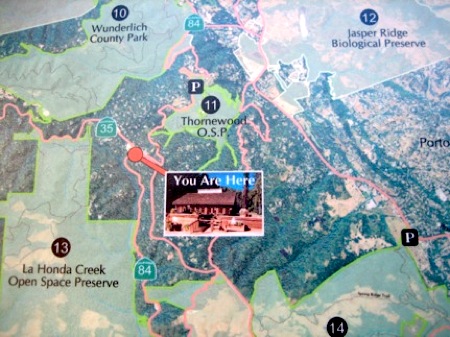 We enjoyed a scrumptious brunch before continuing on down 84 to Pescadero Rd. and a stop for the ladies' first view of the California Coast at Pescadero Beach. While generally California winters are fairly mild compared to other locales, we do experience the occasional rainstorm or heavy fog. But today, the weather couldn't have been kinder to us and gave us the gift of a brilliant day along the coast - picture perfect. We traversed a few more favorites in the area, including Bonny Doon, Empire Grade, Felton-Empire, Old Santa Cruz Hwy, Summit Rd, and San Jose-Soquel Rd. Before the last leg along Hwy 1, we took a break and Sally exclaimed, "I think I've done more twisties today than I have all year back home!" That made me smile.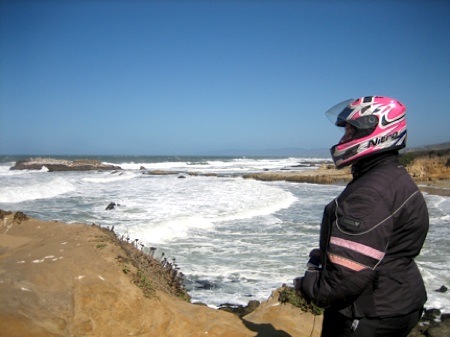 The ride down Hwy 1 to Monterey was a tad bit exciting as the winds were very strong and our UK girls got a taste of riding sideways while going in a straight line! But they took it all with aplomb and nary a complaint. In fact, they thought it was kind of fun... well, once they made their way through it! Arriving in Monterey for the evening, we enjoyed a wine and cheese buffet in the hotel lobby before walking down to historic Cannery Row for a little sightseeing, shopping, and a lobster dinner complete with bibs! Retiring back to our hotel, Sally pulled out her ever present computer so she could update her blog for the friends back home on the day's adventures.
Saturday morning greeted us with breezy winds but not nearly as strong as the day before. I heaved a sigh of relief as the day would be spent riding the Pacific Coast Highway and high winds were not on the day's list! Again, the weather had deemed us worthy of sunny skies and ocean views that took your breath away. We stopped often to take photos and drink in the amazing view. No matter how many times I ride down the coast, I never tire of the energy and spirit of the massive ocean of blue.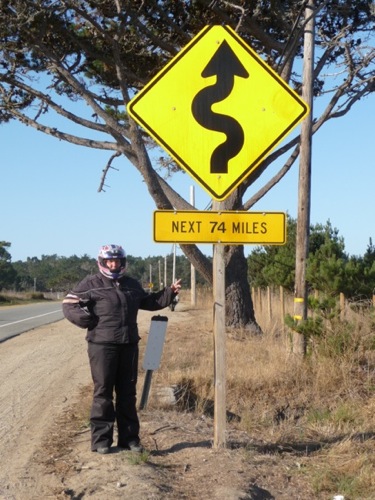 We rode through Big Sur, taking a few moments to stop at the Little Sur Inn to sit out back and sip a soda and enjoy the babbling brook at our feet. As we continued through Big Sur, we were witness to the mass destruction of the recent fires which had burned so many acres of this lovely section of land. While sad to see, we could already see signs of green as Mother Nature took on the task of rebirth.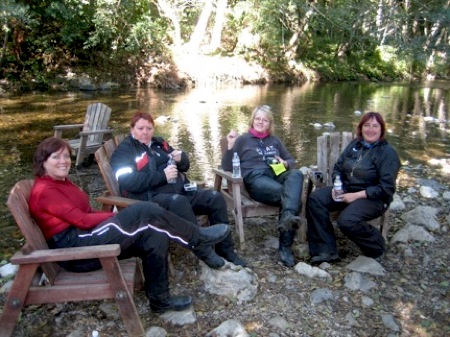 We stopped for a picnic lunch just off of Hwy 1 near the waterfall at Julia Pfeiffer State Park. After an easy, quarter-mile walk, we became witness to the most amazing view of the waterfall, the pristine (closed to the public) beach and the teal-colored ocean, its white capped waves crashing on the shore. I had ridden down Hwy 1 for years before I found this little treasure and I enjoyed being able to share it with Sally and Carol.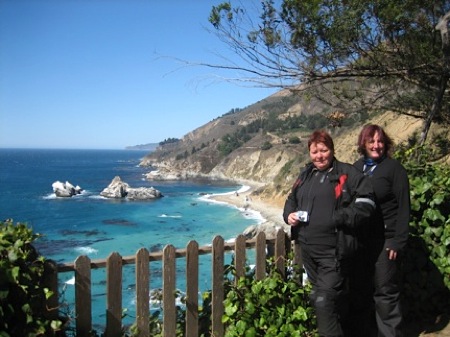 We continued our marvelous journey down the coast, stopping at Ragged Point for an espresso, then to see the elephant seals just outside of Cambria. We arrived at our hotel, located directly across the street from the beach, our rooms with patios facing the ocean and a perfect view for the coming orange-hued sunset as it sunk into the sea beyond the cypress trees. We freshened up, had a fabulous dinner, and then it was off to Hearst Castle for the night tour.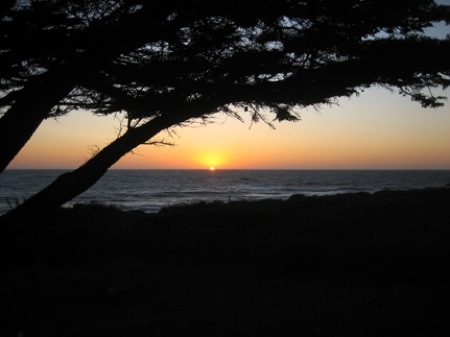 The tour includes a bus ride up the twisty, windy road to the castle (sure wish they'd let us up that one on 2-wheels!), where you are dropped off with your own tour guide that leads you through the fabulous structures. The night tour is special in that they have people dressed up period costume as if you were there "real time"... you might even catch a glimpse of Randolph Hearst himself or at least an extremely close facsimile. The gardens are lush and beautiful featuring: marble sculptures, the 2 pools - the famed outdoor pool and the indoor pool which contains actual 18-karat gold tiles; tennis court, 18-room guesthouse; and a private movie viewing room. If you have not had the pleasure of viewing Hearst Castle for yourself, it's a visual treat and historic pleasure, one that should not be missed!
Sunday morning dawned and, after one more moment enjoying the ocean view, we traipsed to the back roads through the farmlands and vineyards around Paso Robles. The roads did not disappoint with twists and turns and even a close encounter with local wildlife - the girls were chiding for taking a slower-than-normal pace but they hadn't seen the half dozen deer that were jumping in and out of the road in front of their fearless leader! We stopped in Bee Rock for our picnic lunch that was waiting for us, courtesy of Ben, and soaked in the sunshine.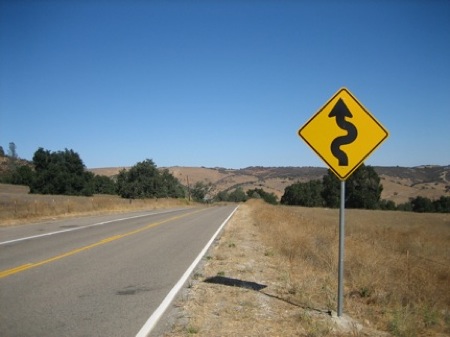 As we rode along Loanoak Rd. outside of Hollister, we were graced with the sighting of a lone bald eagle sitting in a tree, watching us as we rode by. Dorothy managed to snap a photo of him in the tree so we had proof! He was magnificent and once we passed, he soared into the sky and I felt a kinship of sorts as we soared across the land on two-wheels.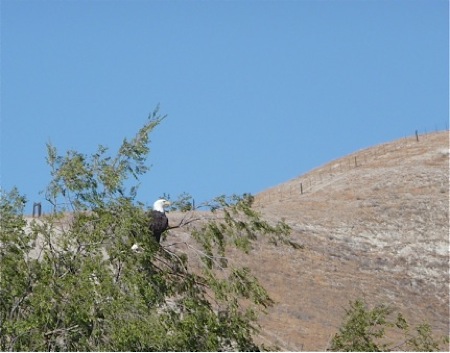 Our final leg of the tour was on one of the most highly touted roads in the South Bay - Hwy 25. It has a little bit of something to keep everyone happy - sweepers, tight turns, long straights to test out that throttle hand, and amazing valleys and vistas.
We gassed up in Tres Pinos before we had to let the girls go on to the next step of their journey - Yosemite! I was amazed at how quickly we had all bonded. We were honored to now call these ladies friends. It was hard to part with them but it was time to say goodbye for the time being. I was comforted with the knowledge that we would not be strangers and would see each other again.
Once again, the magic of sharing a passion for motorcycles gifted us all with experiences that will forever be etched upon our memories and friendships that would endure time and distance.
Click Here to Visit Dangerous Curves
Click Here to Visit NorthStar Moto Tours