First Successful Rode Trip
by Kathy
(Sumner, WA)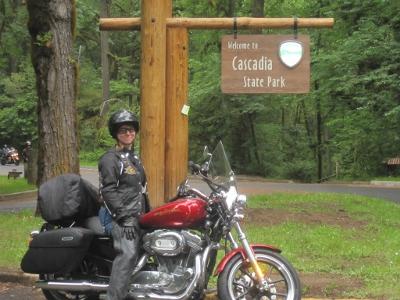 Typically I ride with my husband of 27 years and maybe 2 other bikes, short ½ day trips, ,never on the freeway, close to home. This is my third year but really the first serious year. I moved up from a Honda Rebel in February to Harley's 883 Superlow, (I am only 5'2") I call her my Piglet.
A few weeks ago my husband and I were invited on a week's journey to tour Washington and Oregon States with a number of other riding friends from our local HOG Chapter. The week fell at a time my hubby was scheduled for a 2 week fishing/boating trip up to Alaska. So I graciously declined the offer only to be encouraged by other women riders to go solo without him. Wow, separate vacations? That was a wild thought.
I weighed the route, the $$$, the fellow riders…….. I could do this!!!
I was able to share rooms this another seasoned lady rider, which helped keep the costs down and helped me to feel less "solo." We ended up with 14 people, 6 lady riders, 2 couples 2up and 4 men riders, so 12 bikes in all.
It was one of the most amazing and empowering things I have done in a long time. I rode mountain passes over Mt Rainier, along the Columbia Gorge (fought with the wind) crossed over the Hood River Bridge (100% grated very long bridge!), rode fantastic twisties on Mt Hood, visited Timberline Lodge (redrum!) We toured some of Oregon's historic covered bridges, headed out to the coast and rode along Hiway 101. I got to ride over the Astoria bridge 3 times, I think it is like 3 miles long.
I only had one boo-boo. I learned what happened when you try to get off the bike without using the kick stand . And when all was said and done when it was time to burn for home I rode the freeway! Major thing for me. All-in-all we rode over 1200 miles last week.
As my seasoned lady rider friend put it "If you are not a confident, comfortable rider after this trip you may as well hang the keys up and sell it." NO WAY! When is the next trip! Only next time I want to share the experience with my hubby too.

---
---