Home -> Guest Articles-> The First Solo Ride
The First Solo Ride
The First Solo Ride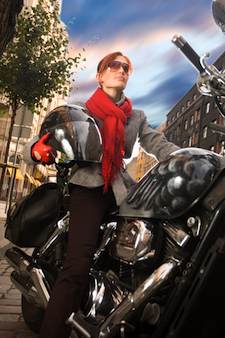 They say that you never get to have your first solo ride more than once, I beg to differ. There is the very first solo ride ever - the first time that you get out on that bike and you just ride and ride and ride. Then there is the first solo ride after a life changing event. The first time that you ride alone after finding the one you love, where you get to go out and proclaim your new found feelings to the open road in great whoops of joy. There is the first solo ride when you know the end is in sight and you want to figure out whether you want to fix it or let it die. And there is the first solo ride after it ends for real, that heartbroken, it hurts so much I can't talk about it yet ride. Get out the ice cream and the hankies girls; I just came back from mine.

I never wanted to like the guy in the first place, I swear that is true. We met on one of the online match sites, we were both pulling out of our memberships, disillusioned and despondent. Ah well, I had thought at the time, I have a full life and I don't really need a man. While that is true, I had to admit I wanted someone special in my life. This guy was in theory what I wanted, someone who loved to ride, movies and sports, but I didn't think he was my physical taste. I met him, still thinking that. By the time we were done splitting the gooey, gooey chocolate cake o'death for my birthday, I was hooked.

We were together for several years. We shared a connection that I had thought was unbreakable despite his commitment-phobic issues. We rode, we loved, we watched sports, but little things were bothering me. The relationship was not progressing at all. The little things that had bothered me at first were starting to grow bigger and bigger. I went on a ride with a group of my friends; he would go riding with a group of his friends. But when he and I rode it was only him and me. He never introduced me to his friends; I never introduced him to mine. Trouble loomed on the horizon. Still, I loved the big lug and I accepted it. I did not like it, but I accepted it.

One day it dawned on me that he would be content to be this way forever, in our half relationship that had me tied to a man who was not so involved or invested. I could settle for less than what I deserved or I could break my own heart. My first solo ride after that night was slow because of the pouring rain that fell only from my eyes. I rode out to a spot where no one could hear me and sobbed in pain and grief and screamed in anger and rage. I came back feeling lighter and more delicate, but ready to seek the comfort of my waiting friends.