Home -> Guest Articles-> Biker Weddings
Biker Weddings
Biker Weddings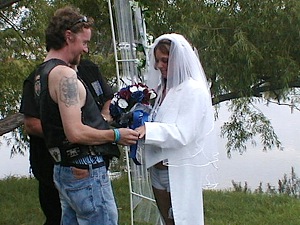 Let's face it. There are plenty of kooky wedding ideas out there. People have been married while bungee jumping, or while they're scuba diving under water. Having a biker wedding can seem a bit odd to some, but on the spectrum of weird weddings, it's not out there very far. If you and your intended want to have a biker wedding, go for it! It will be a fun time and everyone will enjoy himself. Here are some tips for planning a perfect biker wedding.

Inside/Outside
Many biker weddings take place outdoors, but that's a personal preference. You can figure out for yourself just how big an impact your bike is going to have on your wedding. Do you want to arrive at the church on a bike? The reception? Are you going to ride off into the sunset together at the end of the wedding on a bike? Once you begin to make those decisions, you can start to think about how the pieces will come together. Many people choose a fairly traditional wedding with biker pieces to it, but some go biker all the way.

Wedding Dress
Deciding on the dress you want to wear is the first step in deciding the rest of the wedding details. Everything lines up around the dress! Many women who choose to have a biker wedding choose to have a full out wedding dress - long train with a veil and everything. If you are the type who wants to feel like a princess at her wedding, go ahead and get the dress of your dreams! You'll have to think about the usual things, such as the price of the gown and the number of times you'll wear it. Only you can decide just how much you should spend. But if you're going for a full gown, you'll need to think through some details. How are you going to ride safely in the dress? How are you going to keep the dress clean while you're riding? It's all personal choice, but many women choose to wear a slinky gown so there is not so much material to worry about while riding. Slits up the sides make it easy to get on and off the bike.

Groom's Attire
You'll have to dress the groom according to his preferences, while trying to keep him somewhat in line with your dress. Many men will want to throw in some leather in a biker wedding, so try to come to some agreement as to how much leather is OK. Many men want to make these choices for themselves, and others want to be dressed.

Wedding Stuff
If you look hard enough, you can find biker wedding invitations, or you can design your own. You will also find biker wedding cake toppers that can be pretty cool looking. You might even be able to find biker centerpieces for the tables, and even biker themed gifts for the attendants!

Biker Ceremony
A typical biker wedding ceremony will be held outside. Bikers will line up on two sides, forming an aisle down the middle. When the bride walks down the "aisle," the bikers will rev their engines as she passes. When she reaches the alter, the bikers will all shut down their bikes at once. Once the ceremony is over and the bride and groom turn to walk out, the bikers fire up the engines and rev them in celebration!

Planning the wedding of your dreams takes time and effort. If a biker wedding is the wedding of your dreams, go for it in a big way. Everyone is sure to have a great time at your wedding if you are enjoying yourselves.