Home -> History-> Women Riders-> Women Riders page 2
Women Riders 2
More Real Women Who Ride!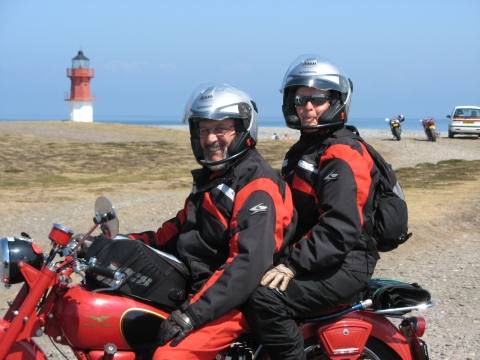 Women Riders 2 - I met the next woman motorcycle rider while vacationing on the Isle of Man in June of 2007. A group of us were riding around on our last day on the island, looking for a scenic lighthouse near the coast, and shortly after turning off onto a small road - we saw the most beautiful sight.

There was a sea of vintage red moto guzzi motorcycles and riders dressed in the classic moto guzzi colors - red and gold. I saw more motorcycles than I could count, and spied women riders.

Being the enthusiastic women rider that I am, I decided to go over and talk to the group. And then I met Regina and her husband. I found out immediately that Regina is a rider, but like me, for this trip she was riding on the back - 2up as we like to say.

Moto Guzzi Motorcycles Posed for the Photographs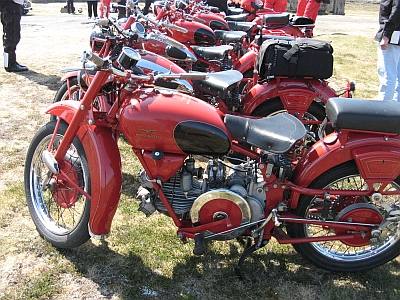 Not only were the motorcycles gorgeous, the entire group was very friendly. I learned a little about the group, and learned that Regina was one of the women who regularly rides.

We posed the group, took many many pictures, and then watched them ride off into the sunset - sunshine. Before they left, I exchanged information with Regina and asked if she would allow me to profile her on Her-Motorcycle.com. Graciously, she said yes, and allowed me the following interview (conducted by email):
Why did you want to learn to ride?
For years I was content to be a passenger. But one summer during a long road trip thru Kansas, I kept dozing off, and bumped helmets with Pat. Snooze, nod, BANG! Startled awake, then...... snooze, nod, BANG! Not only was this distracting, but he worried about me actually falling off. So, the next thing I know,he buys me a spot in the local MSF course.
I welcomed the challenge and passed the test. Got my license when I turned 30, and never looked back.During my early moto days, I started a local chapter of Women on Wheels in San Jose, CA. The group is still going strong, and is focused on mentoring new women riders. I'm really proud of my involvement.

Have I convinced you NOW that you really need to learn how to ride?

Regina with the Italian MotoGuzzi Group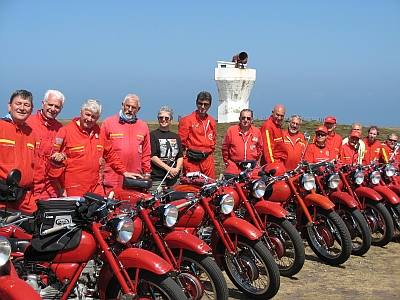 What are some of the motorcycles that you have ridden over the years? We've had Guzzi's for over 30 years. Our first Guzzi was a 1975 El Dorado. We bought it in 1978 from a dear friend who had wrapped himself around a lamp post one night; both he and the bike sustained major damage. We restored the bike, and he fully recovered, I'm happy to say.

I started out on a V50 Monza, which is a 500cc 'little brother' of the 1000cc Lemans version. What a great show-off bike. Pat put a custom wrap-around fairing on it, and it was HOT. (no good pictures, tho). I rode that bike for years, but the radical sport position killed my shoulders, and besides, after two babies, my tummy didn't fit as comfortably in tight leathers scrunched down over the tank anymore, so I bought a 650 custom (touring model), also Guzzi.

When I needed to upgrade from that, I took a test ride on the new Guzzi EV1100, and also on a BMW 1100RT. I was really torn between the two bikes, but the price tag on the Beemer was daunting. Instead, I purchased the Guzzi from a local dealer; it was a floor model that no one had picked up in over a year. The color might have had something to do with it.....yellow and caramel. Wonderfully stylish Italian colors, but it looked like a hotdog with mustard to me.

Anyway, after a fantastic deal, I warmed up to the colors, and have loved riding it ever since. Minor modifications such as lowering the forks, adjusting the shocks, and smaller tires made it a comfortable height, and its a joy to ride.
How long have you and your husband been involved in the MG group?
We met the Italians in 1993. The Italian moto club "Moto Guzzi Classics" of Vincenza Italy, is a vintage club -- they all ride Guzzi Falcone, which is a 500cc single. They were planning a trip to the US, and found Pat's number from the US MGNOC (Moto Guzzi Owner's Club).
The Italians absolutely loved the desert and wide open spaces of New Mexico, so we helped them plan a route thru Death Valley and major national parks in the southwest (Grand Canyon, Bryce, Zion, Mitten Rock, etc) . As a token of gratitude, they made us honorary members, and invited us to join them on their tour through Tuscany in 1995. Great timing, as it was our 20th wedding anniversary!
The Entire Moto Guzzi Group on the Isle of Man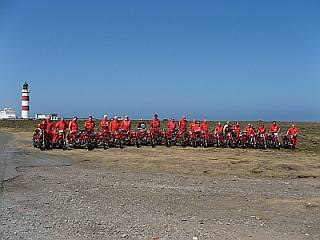 We have joined them almost every year since then. My two visits to the Isle of Man were with the Guzzi club. IOM is indeed an unforgettable extravaganza of motorcycle enthusiasts. Incredible variety of bikes, types, colors, piercings, weirdness, etc. Oh yeh, and plenty of Guiness!

I don't have a good photo of my EV, but here is a shot of my centauro, my mother on my EV (I love the zany look in her eyes), and my two sons, who also ride. Guzzis, of course!


Regina with Her New Touring Moto Guzzi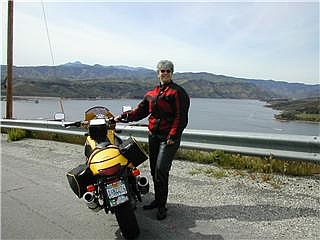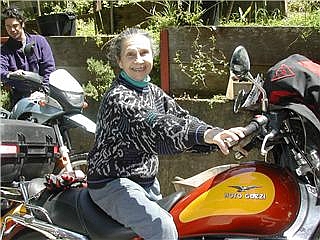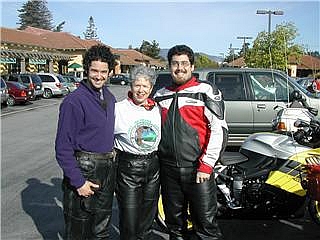 It was my pleasure to meet Regina, and I hope our roads cross again!

And, it just seems like those lovely vintage red Moto Guzzi motorcycles just belong on this site - all red and lovely!