Home -> Best Bikes-> Vintage Honda Motorcycle
Vintage Honda Motorcycle - The Honda Hawk Automatic
An ingenious invention, now considered a Vintage Honda Motorcycle is the Honda Hawk automatic. I believe that this motorcycle, which was first manufactured in 1975, was intended for women.

Wanting to do a bit of research on this model, I went directly to the Honda Motorcycle website, and checked their historical press releases. No mention of the Honda Hawk in 1975, 1976 or 1978, the last year for this model...Interesting.

One would think that such a ground-breaking concept - a motorcycle without a clutch - would be worthy of a press release.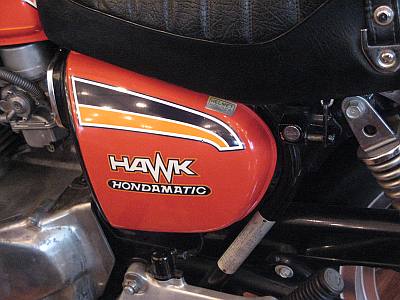 Then, I find an article on Wikipedia and learn that the Hawk, the automatic version, proved to be a bit of a failure. Apparently, the bike without a clutch was a bit too heavy and slow.

The bike also has a fairly "wonky" parking brake on the left handlebar, and another brake on the right, along with a foot brake.

Honda first manufactured a 750cc model, then followed it with a smaller 400cc. Neither stood the test of time.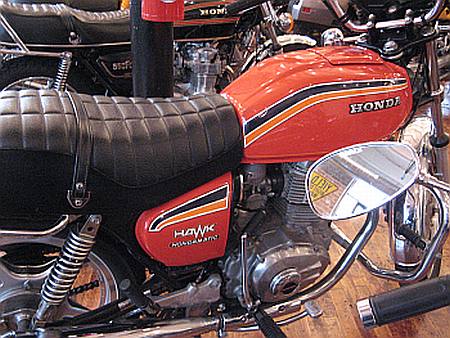 I recently had an opportunity to see one of the earlier 750 V-twin models in person, and it was a beauty. I believe it is an original color, a bright tomato red. I could not find enough information about the model to confirm that.

Other than a dent in the tank, near the seat, this bike is gorgeous - just from an aesthetic point of view.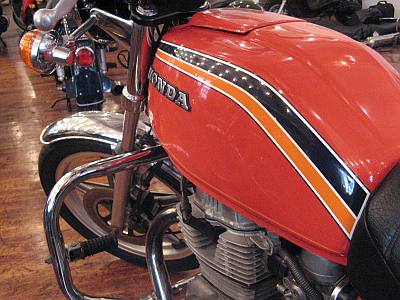 Personally, I don't think that I would like an automatic motorcycle but that is because I've learned how to use the clutch and work the gears. Can you imagine grabbing the parking brake by mistake?