Home -> Motorcycle Touring-> Packing For A Motorcycle Trip
Packing for a Motorcycle Trip

If you are going to travel by bike, you going to be packing for a motorcycle trip. If there is anything that I've learned over the years, it's how to pack efficiently. This experience has been gained mostly from unpacking my bags when I get home. The stuff that I pull out of the deep recesses of the bag, that I forgot I packed, AND, more importantly, that I never wore, or used --yep, that's how I learned about Packing for a motorcycle tripI must also give credit to the women with whom I have traveled, especially the women I've traveled with on long trips in the States, and in Europe. These women are professionals. Professional packers, for sure. Take a bow, girls. You know who you are.

The Tools - Bags, Bags and More Bags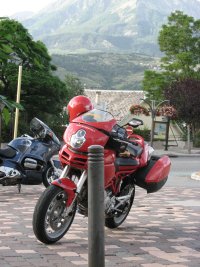 Before you add the items to be packed, useful items to be packed, that is, you need the right bags. Chances are that you will not be unpacking your stuff each night, putting each T'shirt neatly into a drawer in a dresser in your hotel room. You may be in the same room for more one night, but if you're traveling the way we do, you'll be moving to a new location each day. Not only is there no time for unpacking, you won't want to waste the time doing it. Instead, you're going to want to shower,or have a beer or a glass of wine. So, your stuff needs to be packed neatly, and in a manner that allows you to get to what you need without rifling through everything. The solution:

Jumbo Ziplock bags - Yep, purchased in the grocery store. With Jumbo Ziplock bags, your ability to sort through what you've packed is enhanced. You can pick up each bag and actually see what's inside. But the beauty of packing stuff in Jumbo Ziplock bags goes way beyond seeing the contents of each bag. If you very neatly fold each item, and place each item very carefully and neatly in the bag, then zip the bag almost closed, and sit on the bag until all the air inside is gone. Yep, use your butt just like a vacuum, and let all the extraneous air back into the environment. Zip the zipper completely closed, and you now should have a very flat, compressed bag of your stuff. Your bag should be SO flat that you are astonished. Flat bags mean more flat bags can be packed.

Now, when packing for a motorcycle trip... Do you see the importance of Jumbo Ziplock bags?

Another piece of gear that makes things easier is leather bags that attach directly to your motorcycle, and bag liners for your hard luggage. If you have liners, you won't need to detach the hard luggage at the end of the day. Liners are much easier to carry - and usually can be washed in the washing machine at the end of the trip.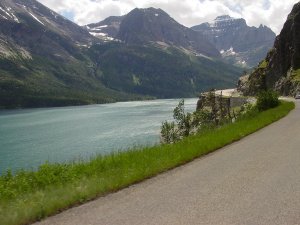 Other than packing in Ziplock bags, there's not much science involved. When Packing for a motorcycle trip,think about what you are most comfortable wearing. With me, that's white Gap T'shirts, and blue jeans. Flat soft shoes when I'm not riding. Sweat pants, sweat shirts, a few dresses (for when you just cannot imagine a seam in your crotch one more minute), a skirt. A turtleneck for cold mornings, a camisole should the weather turn extremely warm. Some shorts for sightseeing. A swimming suit. Fleece jackets that fold really small.

Do you really need anything else? Probably not.
I also recommend that you include the following:


Band-Aids
OTC Pain Reliever of Choice
Sponge or Velcro Curlers (Helmet Hair Cure)
Extra Gloves
Extra Socks
Batteries
Cell Phone Charger
Important Addresses/Phone Numbers
Confirmation Numbers for Hotel Reservations
Your Motorcycle Manual
Tire Pressure Gauge
Tire Patch Kit
Washcloth
Extra Toilet Paper
WetOnes
Gel Hand Sanitizer
You may have other "essentials" - whatever you need, just remember that space is always an issue. Travel sizes are useful, and just ask yourself: "Do I really need this?"

Her Motorcycle
Our Newsletter